American becomes 2nd US airline to use Boeing's 787 Dreamliner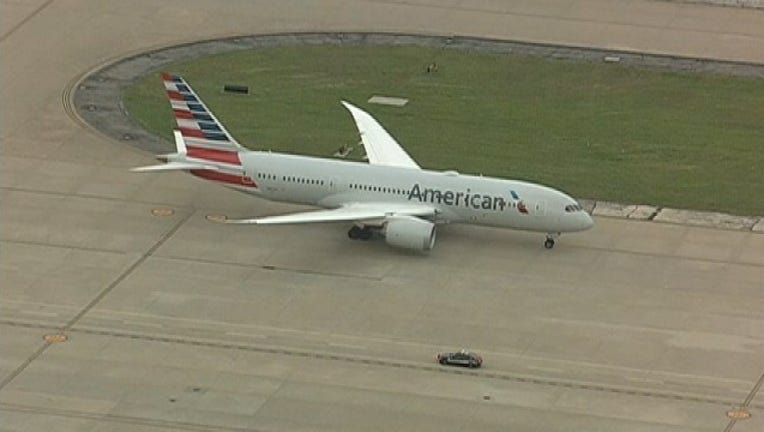 article
American has joined the list of airlines flying the Boeing 787 jet, which it hopes will appeal to passengers and open new, profitable international routes.
Passengers boarded at Dallas-Fort Worth International Airport on Thursday morning for American's debut flight of a 787 to Chicago. Domestic service is just a warm-up. Next month, American will begin using 787s on flights to Beijing, Buenos Aires and Shanghai and will add Tokyo in August.
American joins United as the only U.S. airlines using the plane, which Boeing calls the Dreamliner.
The 787 is made with lightweight carbon material and other advances to improve fuel efficiency by up to 20 percent. The interiors feature larger windows and mood lighting.
The plane's range and efficiency make it ideal for long flights, and its smaller size is perfect for routes lacking the demand to fill a larger jet like the Boeing 777 every day.
CEO Doug Parker said bigger planes can drag down average revenue per passenger.
Parker spoke just before American's first daily nonstop flight from DFW Airport to Beijing. The airline used a Boeing 777 on Thursday but will put the Dreamliner on the route beginning June 2. American trails United and Delta in service between the U.S. and Asia, but it has added destinations in Asia and renewed a partnership with Japan Airlines.
"We remain committed to building our presence in Asia, a key component of our long-term network strategy," Parker said.
Parker said the new routes would have been possible without the new plane, "but the aircraft makes them much more viable and makes expansion into other routes much more likely."
The 787 has run into many delays and glitches, from labor strikes that slowed production to a problem getting seats from a supplier. Most ominously, regulators grounded the worldwide fleet of Dreamliners in 2013 while Boeing developed a fix for lithium-ion battery packs that overheated.
Just last week, U.S. officials ordered airlines to shut down the planes' electrical systems every few months to prevent a loss of power that showed up in laboratory testing. Boeing is working on a more lasting software fix.
Boeing has taken nearly 1,100 Dreamliner orders and has delivered about 270 planes so far, according to a spokesman, but it continues to lose money on each one because of high production costs.
American has ordered 42 Dreamliners and has taken delivery of the first five. United has 17 with 38 more on order, and Delta has 18 on order but none due for delivery until 2020.
American took delivery of its first 787 in January. For several weeks, pilots who trained on 787 simulators have taken the planes out on practice runs, mostly across the western United States.