Ahi Tuna Taco with Wasabi Slaw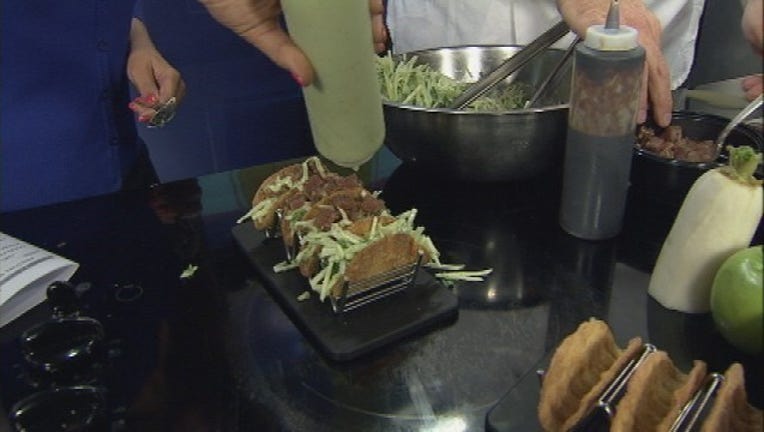 article
Equipment: Measuring Utensils, Mandolin, Mixing Bowl
Ingredients:
1 cups Wasabi Dressing
1 cups Jicama-1½" julienne with Mandolin
2½ cups Daikon-1½" julienne with Mandolin
2 cups Granny Smith Apple-1½" julienne with Mandolin
¼ cup Chives, sliced thin
1 Tblspn Parsley, chopped fine
Procedure:
1. Combine all ingredients in a mixing bowl .
2. Chill and store refrigerated until building Tacos.

Ahi Tuna Taco
Procedure:
1. Season Sashimi grade Tuna with salt and pepper.
2. Sear in a cast iron skillet with sesame oil.
3. Chill the tuna down to below 40 degrees and dice in to small pieces
4. Using a taco fryer mold, fry wonton pot sticker wraps in to small taco shells. Allow to cool to room temperature.
5. Fill the taco shells with wasabi slaw, diced tuna. Top the tacos with lemon wasabi sauce and rum hoisin.
6. Serve immediately with your favorite margarita or "patio pounder" white wine.