3 dead, 2 others wounded in shooting as July 4th block party was wrapping up in Dallas
DALLAS - A shooting at a holiday gathering in Dallas left three people dead and two wounded Sunday night. 
Police are still trying to piece together exactly what happened at this shooting, which happened just before 11:15 p.m., at a block party near Hamilton Park Elementary, in the 8200 block of Towns Street.
Police found a bullet-riddled Camaro and multiple gunshot victims. 
Three of them were taken to the hospital by ambulance, and two others were taken by private vehicles. 
Three of the victims died shortly after arriving at the hospital, and police said another is listed in critical condition. 
There is an annual July 4th celebration and block party in the Hamilton Park area, and this year's event was reportedly wrapping up when the gunfire broke out. 
More than 100 shell casings were recovered after police said at least a half dozen people pulled guns and opened fire.
"Nothing like this, of this magnitude, has ever happened here," one person who lives nearby said.
Homicide detectives haven't said what turned the fun Fourth of July event into a violent and fatal event, and right now, they still don't know anything about the male victims.
But the people who live in Hamilton Park, who are proud of its rich history and saddened by what happened, said none of those involved live in their community.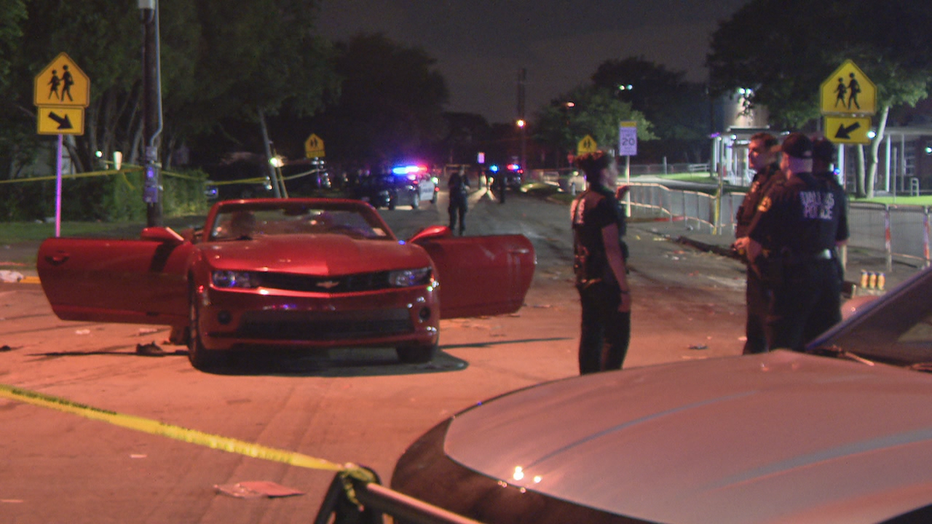 "It became a point where you couldn't tell between the fireworks and gunshots until it became repetitive, and then we could tell the difference when you see everybody running," recalled Jamie Waits.
Waits and her daughter tried to help one of the victims
"I want their mom and dad to know we prayed over your baby like never before," she said.
There were multiple people firing weapons as Taler Jefferson tried to drive home from work.
"Driving down the street and I saw people jumping over the gates and stuff, and I tried to put my car in reverse and I couldn't 'cause somebody was behind me and I just seen somebody just shooting," she recalled.
Police sources and the people who live in the area said those involved don't live in their community.
"People come in your own neighborhood and just destroy it, destroy it. It's sad, it's really sad," Mae Wharton said.
And Jamal Young said it goes against Hamilton Park's history.
"Keep the love for everybody in the community, for the kids. Show the kids how to have fun, how to come out and enjoy themselves and not leave and have these thoughts on their mind after an incident has taken place like this," he said.
"It was unfortunate what happened [Sunday]. This is not a normality of Hamilton Park at all," Tevar Watson.
Watson had his boys out cleaning up the mess. He does it every year after the July 4th street party.
"We want to make sure we keep it clean and clean it up and respect it after everybody else, after this is all done, you know," he said.
"I run a non-profit out here and we do a lot of good in this neighborhood. This is, if you look at the time span of Hamilton Park, this is very rare. Like shootings like this is very rare. This doesn't happen over here," Jefferson said.
Some of the neighbors said they saw police officers in the area before the shooting.
FOX4 asked Dallas police, and they said there was a team of northeast patrol officers and firefighters on fireworks patrol.
But there were no calls for fireworks in Hamilton Park between 6 p.m. and 11 p.m.
There was a 911 call at 10:33 p.m., but the caller wasn't specific about what was going on.