2 adults, 2 kids found dead in Granbury home in apparent murder-suicide
GRANBURY, Texas - Four people were found dead, including two kids, in what Granbury police are calling an apparent murder-suicide.
Police say they were sent to a home in the 300 block of Kathy Lane in Granbury for a welfare check Thursday around 2:45 p.m.
When officers were able to get into the house, they found four people dead. They have been identified as 36-year-old Marcus Buchanan, 34-year-old Rita Buchanan, a 13-year-old girl and a 3-year-old girl.
Neighbors say they watched as police spent more than 12 hours at the home after they made the grim discovery.
"I don't even know how to deal with it because, like I said, it's shocking," said friend Maddison Blanchard. "It's something that I wouldn't ever expect."
Police say they were all found with gunshot wounds. They found evidence at the scene that led investigators to believe it was a murder-suicide, but a final determination hasn't been made yet.
At this time, police say there is no other evidence of anyone else being involved in the incident.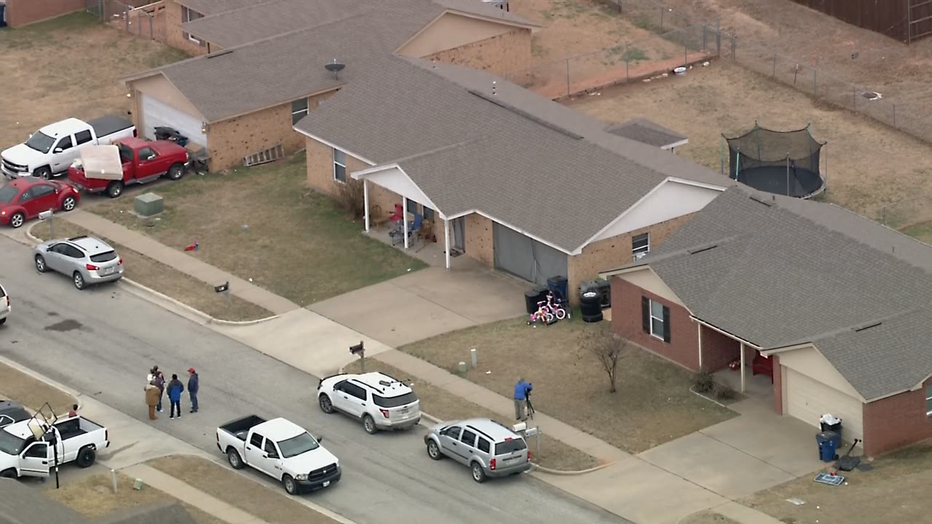 Neighbor Crystal Blanchard said she last saw Marcus Wednesday afternoon.
"None of us heard anything. Nobody in the neighborhood heard any gunfire whatsoever, especially four rounds," she said. "Marcus was the happiest guy. He always talked. He always hung out with us."
Kayeleagh Goltl, a classmate of the 13-year-old, says she remembers seeing the teen at school on Tuesday but recalls she was absent on Wednesday.
"She was always so happy on the bus. I didn't expect it," she said.
Crystal said the Buchanans had just moved to Granbury from Las Vegas about six months ago. Marcus and Rita both worked from home. She says the 13-year-old became fast friends with her daughter Maddison.
"She was always over for dinner or snacks or movie night," she said. "I mean no, there was never any indication that anything was wrong."
In a statement, Granbury ISD Superintendent Dr. Jeremy Glenn says "the death of a student is one of the hardest things any school district faces. The tragic loss of two of our precious students is heartbreaking for students, teachers and staff and our community."
"They'll never be playing in the backyard again," said neighbor Madison McVay. "We'll never see the dogs playing with them. Reality definitely set in this morning."
The community is reflecting and wishing they could have done something to help.
"Who does that to a child? Those children were innocent. They didn't deserve that," Crystal said.
CPS would not say if the family had a history with them.
Records from Nevada show that Marcus was convicted of second-degree murder in 2006 and served 10 years in prison. Rita had a criminal history that only included a disorderly conduct charge in Nevada in 2014.