Thai coconut curry soup recipe that helps fight hunger
DALLAS - A Dallas chef is putting her talents to work to fight hunger. 
Chef Uno Immanivong from Red Stix Asian Street Food has partnered with the North Texas Food Bank.
She has a sold-out event benefiting the pantry and has developed a soup recipe that will help as well.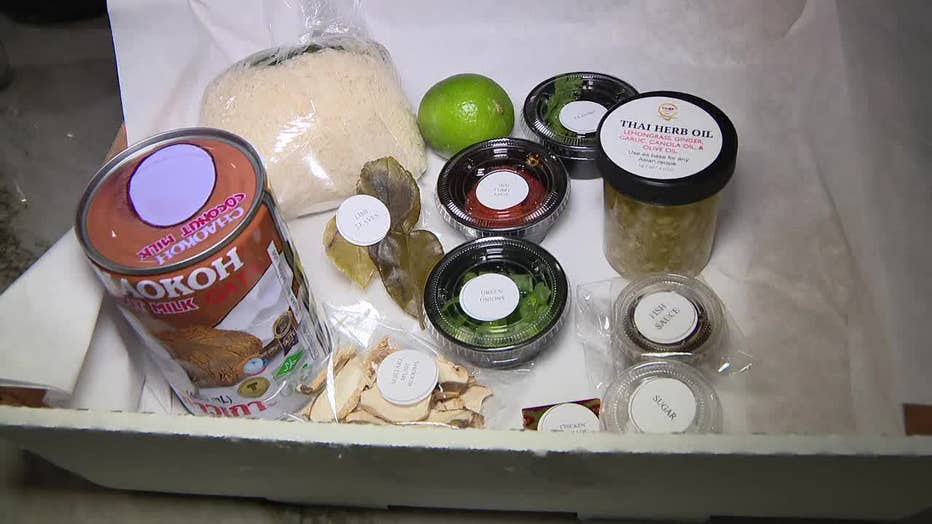 Anyone who purchases the Thai Coconut Soup kit at her restaurant will give $5 back to the North Texas Food Bank. That's enough to fund 15 meals.
The kits can be purchased for $19 at both Red Stix Asian Street Food locations – by SMU in Dallas and at Mustang Station in Farmers Branch.
For more information, visit ntfb.org/event/23rd-annual-empty-bowls/ or www.redstixstreetfood.com.
Tom Kha Soup (Thai Coconut Curry Soup)
Prep time: 5 minutes
Cook time: 15-20 minutes
Serving size: 4
Cookware Needed:
Cutting board
Knife
Stock pot
Spatula for stirring
Can opener
Measuring spoons
Bowls for serving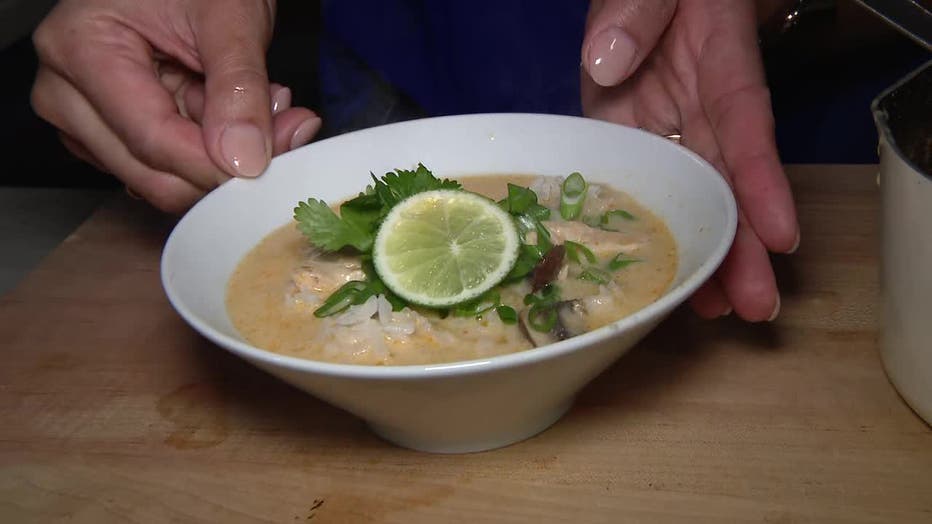 Ingredients:
3 tablespoons Thai aromatics oil (garlic, ginger, lemongrass)
1-2 tablespoon red Thai curry paste (adjust to spice preference)
1 can (13.5 oz) coconut milk
6 cups water
1 cube chicken bouillon (can substitute with vegetable bouillon)
3 each lime leaf
8 ounces any protein/vegetables you have available
10-15 each dried (sliced) shiitake mushroom
1 teaspoon sugar
2 tablespoon fish sauce (can substitute with 1-2 teaspoons of salt)
3 tablespoon fresh lime juice
Garnish
1 each lime (sliced into 1/4" wheels)
2 tablespoon cilantro leaves
1 tablespoon green onions (sliced)
How to Make:
1. Heat stock pot to medium high heat, add in Thai aromatics oil sauté for 1 minute.
2. Add in Thai curry paste (start with 1 tablespoon and add more for additional spice), saute for 2 minutes until it becomes a dried paste.
3. Add in 1/2 can of coconut milk, stir until combined, and allow it to reduce for 3 minutes.
4. Add water, lime leaves, veggies, chicken bouillon
Stove Top Steamed Jasmine Rice
Prep time: 1 minute
Cook time: 12 minutes
Rest time: 10 minutes
Serving size: 4
Cookware Needed:
Medium saucepan with tight fitting lid
Ingredients:
2 cups jasmine rice
2 1/2 cups water
1 each pandan leaf
How to Make:
1. Place rice, pandan leaf, and water into saucepan.
2. Bring to a rolling boil and stir.
3. Turn the heat to low, where it simmers (light bubbles) and place the lid on top. (Do not open the lid while cooking)
4. Cook for 12 minutes or until water is absorbed by rice.
5. Turn off heat and allow to sit for 10 minutes (do not open the lid).
6. Open lid, fluff rice with spatula and enjoy.