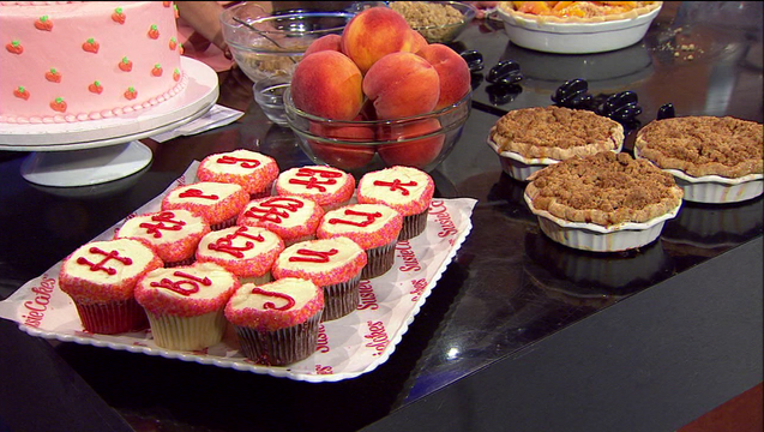 SusieCakes is honoring the legacy of Julia Childs on Aug. 15 by offering its all-new Peach Crumble Pie for $5 off. You can pre-order a pie, walk in and take one or bake your own using head baker Maria Zwicklbauer's recipe.
 
Peach Crumble Pie
9" pie crust
Peach Filling
Fresh Peaches 8 cups
Granulated Sugar 1/3 cup
All Purpose Flour 2 Tbl. 2 tsp.
Lemon Juice ¼ tsp.
Crumble Topping:
Unsalted Butter ½ cup
All-Purpose Flour ¾ cup
Brown Sugar 1/3 cup
Salt ½ tsp
Yields 1 - 9" pie
Preheat oven to 350°
Equipment: 2 bowls, small pot, wooden spoon, knife, measuring cups, measuring spoons, 9-inch pie dish
Place peaches in boiling water for 30 seconds. Remove peaches from water and place in ice water for 15 seconds. Peel the skin off the Peaches. Cut into 1-inch slices and place in bowl. Sprinkle sugar, flour and lemon juice on top of fruit and toss. Set aside for 30 minutes to marinate. Meanwhile, make the crumble topping.
In a pot, melt the butter. Meanwhile, place all purpose flour, brown sugar and salt into a bowl. Whisk together. Pour the hot butter into the flour mixture and mix with a wooden spoon until combined. Using your hands, break up the dough and allow crumble to dry out on a cookie sheet.
Place marinated fruit into a cold pie shell allowing some of the juices to run through your fingers to avoid too much juice being added. Fill to the bottom edge of the crimp. Top with your crumble topping making sure to cover all fruit.
Place in oven at 350° and bake until golden brown for approximately 1 hour and 15 minutes or until golden brown.
LINK: susiecakes.com