Pasta e fagioli soup recipe from the Secchis
Ferrari's Italian Villa in Grapevine is known for authentic Italian. The father who owns the restaurant shared his favorite soup recipe with his son years ago. 
Father and son now happily share the recipe with Good Day.
Pasta E Fagioli Soup
During the holidays, we almost always have a small pot of pasta e fagioli on the stove, whenever anyone stops in, heat goes on and in a bowl…nice piece of crusty bed, tanta roba, a classic!
Ingredients
½ cup extra virgin olive oil
1 medium Spanish onion, minced
1 cup celery, minced
1 cup carrot, minced
½ cup garlic, minced
2 bay leaves
2 sprigs of rosemary
3 ea Parmigiano Reggiano rinds
2 ea-15.5 oz cans of cannellini beans, drained and washed
3 tbsp kosher salt (then adjust seasoning to taste)
½ cup fresh grated black pepper
6 cups low sodium chicken stock or vegetable stock
1 cup good quality dried pasta (macaroni, ditalini shape etc)
1 tbsp basil pesto prepared to finish
1 tbsp extra-virgin olive oil to finish
Parmigiano Reggiano to finish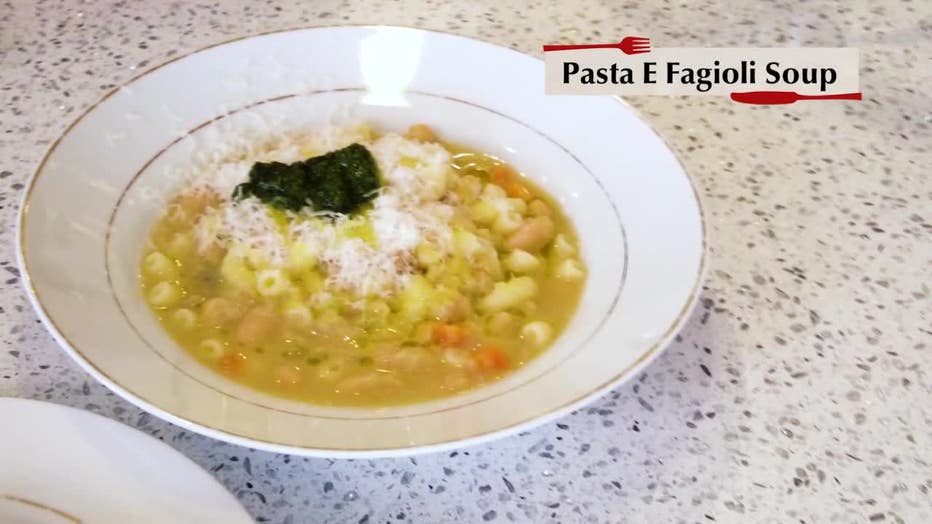 Instructions
In a medium sauce pot under medium heat, add the olive oil, onions, celery, carrots and garlic.  Sweat the "soffrito" for 10 minutes until onions are translucent. Add the bay leaf, rosemary, chicken stock, Parmigiano rinds, kosher salt, cracked black pepper and cannellini beans, stir the soup and simmer for 1 ½ hours.  After the soup has simmered, add the dried pasta and cook for an additional 20 minutes on low or until the pasta is cooked through.  Cool the soup and reserve.
Garnish with some pesto, extra-virgin olive oil, Parmigiano and nice slice of crusty bread…tant aroba.
Yield: Serves 4
Inactive/Active Prep: 120 min
Ease: Pretty Simple