One-Pan Seared Mahi Mahi Recipe
DALLAS - Sear Steakhouse is a new restaurant right on Lake Ray Hubbard in the Harbor Development in Rockwall.
As the name suggests, they sear a lot of steaks.
But for Good Day, Chef Tom Fleming showed off his searing technique with fish and an easy sauce.
The recipe takes just a few minutes and since it's all done in one pan, the cleanup is easy as well.
Sautéed Mahi Mahi
Serves: 2
Ingredients
2 8 oz pieces of mahi mahi
Olive oil to saute & finish
Zest and juice of one lemon
1 tbsp Chopped basil
1 tbsp cilantro
White wine
2 cups fresh arugula
1 cup sliced shiitake mushrooms
1 tbsp shallots
1 clove-slivered garlic
Butter to finish sauce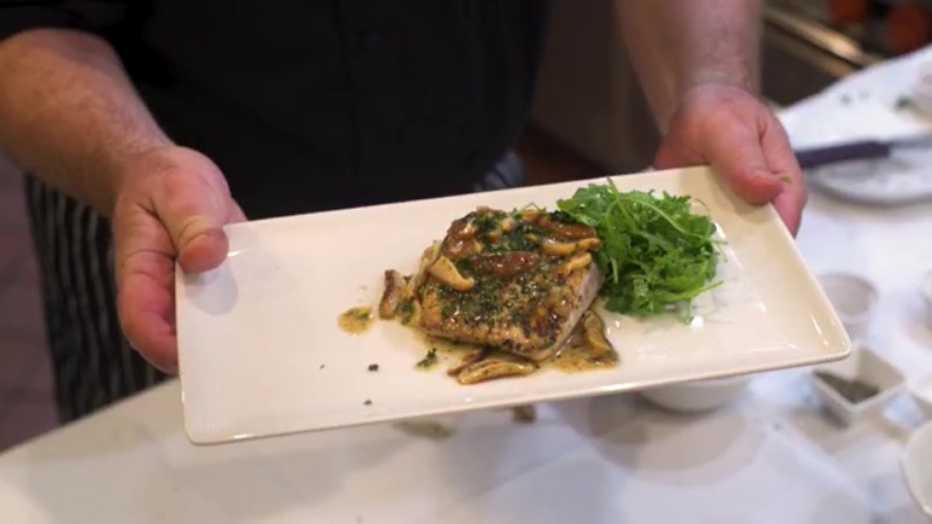 Method
Marinate fish with zest of lemon and cilantro for 30 minutes in fridge
Heat pan and add olive oil
Season fish with salt and pepper
Gently lay into hot pan and sear for 1-2 minutes on each side
Remove fish and let rest on a plate
Add shiitake to pan and saute with shallots and garlic
Add lemon juice and reduce
Add fish back to pan and warm
Add white wine and reduce almost gone
Add basil to pan and swirl
Pull pan from heat and finish with butter
Season to taste with salt and pepper