Kung Pao lobster recipe from Nick and Sam's Steakhouse in Dallas
DALLAS - Chef Samir Dhurandhar of the famed Dallas steakhouse Nick and Sam's takes people into his origins in India to Manhattan restaurants and here to North Texas in his new book "Raising the Steaks."
Readers will find out how a chance meeting with cooking legend Julia Childs turned into lifelong opportunities.
Plus, he shares personal recipes and kitchen tips.
You're invited to Chef Dhurandhar's book signing from 6 to 7 p.m. Wednesday at Interabang Books in Dallas.
"Raising the Steaks" will be available at bookstores nationwide, or you can visit the restaurant to get a copy.
Kung Pao Sauce
Ingredients
Tomato Ketchup 2 cups
Soy Sauce 1 cup
Sambal Paste .75 cup
Rice Vinegar .5 cup
Sugar .75 cup
Scallions (white and green, finely chopped) 3 tablespoon
Ginger (peeled & finely chopped) 3 tablespoon
Salt & Pepper To taste
Preparation
Mix all ingredients in a mixing bowl.
Check for seasoning and reserve.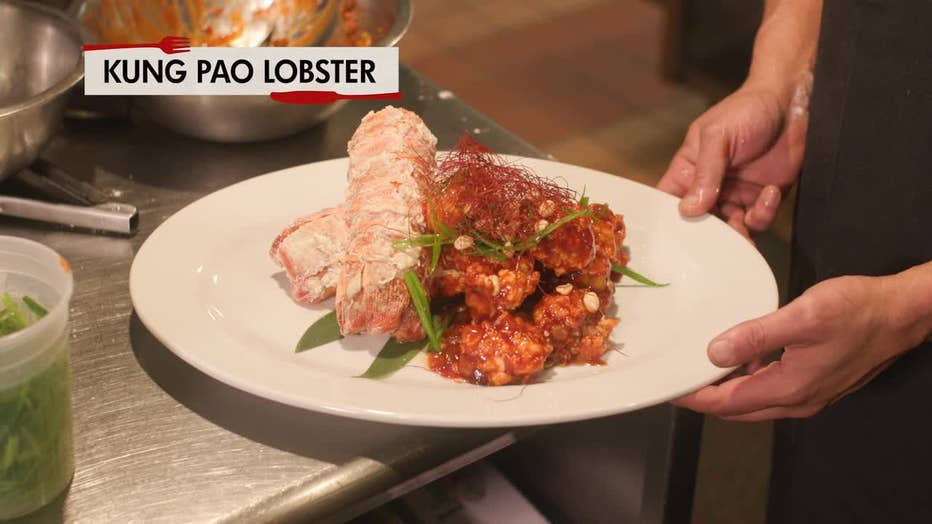 Kung Pao Lobster
Ingredients
Lobster Tail 8oz (cut into 5 pieces)
Egg Whites 2 each
Cornstarch 1 cup
Canola Oil as needed
Kung Pao Sauce 1.5 cup
Scallions (white ad green, finely chopped) 3 tablespoon
Chili Threads as needed
Peanuts as needed
Assembly
Preheat fryer to 325 degrees with the canola oil.
Whisk egg whites till frothy. Add lobster tail and coat throughout.
Add the lobster to the cornstarch and coat throughout.
Carefully add lobster to the preheated oil.  Fry till golden.
Remove on a paper towel to absorb excess oil.
Put into a shallow bowl. Toss with hot kung pao sauce.
Garnish with chopped scallions, chili threads and crushed peanuts.
LINK: www.nick-sams.com