Grilled Fresh Salmon with Chimichurri Sauce
Grilled Fresh Salmon with Chimichurri Sauce
For the Salmon:
Pre-heat your grill to medium-high heat.
Season 7 oz. salmon filet with kosher salt and fresh cracked black pepper. Brush a small amount of oil on both sides of the salmon to prevent it from sticking to the grill. 
Place the salmon on cleaned grill. After 2 minutes, rotate salmon 90 degrees to create diamond grill marks on the filet. After another 2 minutes, flip the salmon over. Cook another 3-4 minutes until the internal temperature reaches 160 degrees, rotating 90 degrees halfway through.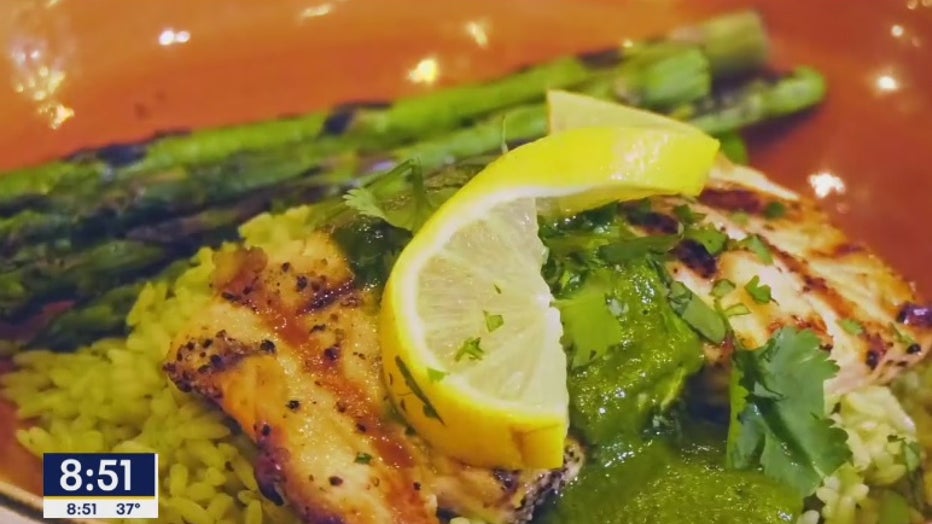 For the Chimichurri:
Combine 1 clove of garlic, 1 bunch of cilantro, cayenne pepper (to taste), 1 tsp. salt and 1 Tbsp. of lemon juice in a blender cap. Start the blender on low and slowly add a cup of neutral oil until the desired consistency is reached. Set sauce aside. 
For the Grilled Asparagus:
Wash 4 oz. of asparagus and blanch in boiling water for 1½ minutes. Remove asparagus and transfer to an ice bath for 1 minute. Remove the asparagus from the ice bath, season with a dash of salt and pepper. Brush asparagus with oil and grill, turning occasionally, for 3 minutes. 
 
To Assemble:
Portion 4 oz. of your favorite rice in the center of the plate. Place grilled asparagus fanned out over the rice. Top the asparagus with the grilled Salmon filet. Ladle chimichurri sauce over the fish. Add a lemon wedge and some chopped cilantro for garnish.