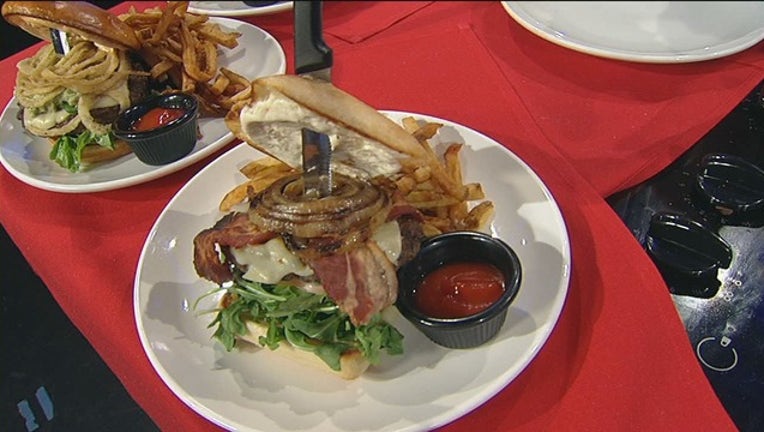 The folks at the Thirsty Lion Gastropub and Grill are celebrating National Burger Month. They stopped by Good Day to make a burger with a gorgonzola-infused patty, sweet onions, maple pepper bacon, white cheddar, arugula and horseradish cream.
 
Gastropub Burger
1 Burger, Stuffed, Gorgonzola 
1/2 tsp. Seasoning, Thirsty Lion 
2 slices Onion, Yellow, Texas Sweet, Sliced 1/2"
1/2 oz. Balsamic Soy Glaze
1 slice Cheese, Cheddar, White Sharp
2 slices Bacon, Peppered, Maple Strips
1 Bun, Ciabatta Square 
1/2 oz. Pan & Grill Oil
2 oz. Sauce, Horseradish
1/2 oz. Arugula
1 oz. Oil, Extra Virgin Olive
1/8 tsp. Seasoning, Thirsty Lion
2 slices Tomato, Sliced – 3/16"
5 oz. French Fries (Napa Slaw or Small Salad)
Season stuffed burger patty with Thirsty Lion seasoning on both sides. Place on grill.
Dip the onion slice in balsamic soy glaze to coat and place on grill.
Cook burger on both sides until desired temperature is reached.
Finish burger to desired temperature.  Top with white cheddar, maple peppered bacon and grilled onion. Place in salamander until melt is achieved.
While cooking burger, butter top and bottom portions of Ciabatta bun and place on flat top grill until toasted.
Spread Horseradish cream onto top and bottom portion of bun.
Toss arugula with extra virgin olive oil and Thirsty Lion seasoning.
Bottom Bun – Layer arugula mix, two tomato slices, and stuffed burger patty with toppings.
Top Bun – Stacked on top and held together with steak knife.
Place top bun, more open on the presentation side and closing slightly to the back of the sandwich, forming the shape of an open clamshell.
Place prepared French fries to the back of burger.