Chef Jolie's Biscuit and Gravy Casserole Recipe
Save yourself the trouble and get an easy holiday brunch together ahead of time. Chef Jolie Oree-Bailey form Low Country Quisine shares a great recipe for a biscuit and gravy casserole.
Yields approx. 8 servings
Casserole Ingredients
8 frozen buttermilk biscuits-thawed
6 eggs
2 cups gravy*
1 lb ground sausage
1 cup cheese, shredded + cheese for topping the casserole
½ cup heavy cream
1/2 Tbsp seasoned salt
Gravy Ingredients
¼ c bacon fat
¼ c flour
1c chicken stock
½ tb kosher salt & coarse black pepper mix
1c heavy whipping cream
½ tsp coarse black pepper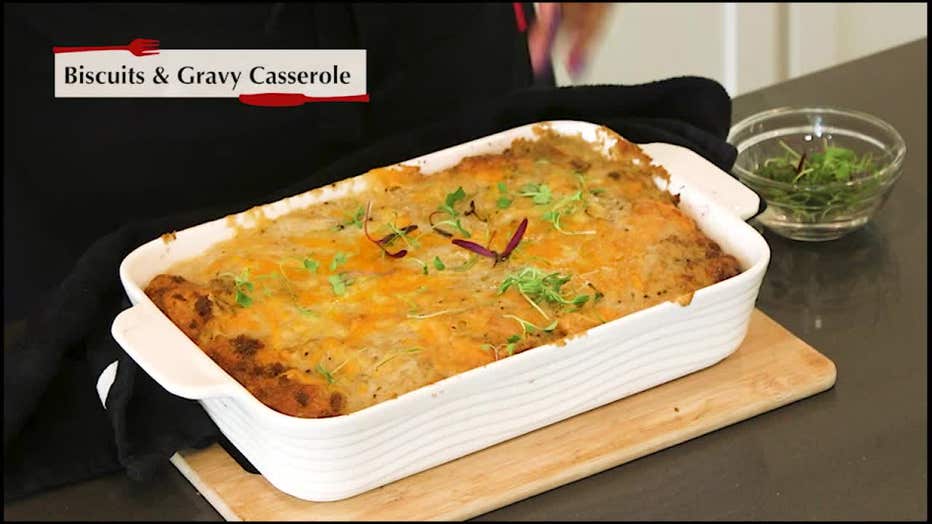 Gravy Method
Heat large skillet on medium heat 1-2 minutes.
Add bacon fat to skillet and heat at least 1 minute.
Whisk in flour. Continue whisking at least 3-4 minutes. Be careful not to allow the roux to burn.
Slowly whisk in the chicken stock.
Whisk in heavy cream and bring the gravy to a simmer.
Finish by whisking in Salt & Pepper and an additional pinch of pepper if desired.
Let's Build the Casserole
Preheat oven to 350 degrees
Brown the sausage in skillet. Drain thoroughly and cool.
Spray 9x13 casserole dish.
Cut biscuit dough into 1" pieces and line the bottom of the pan.
Layer cooked sausage over the biscuit pieces.
Layer shredded cheese over the sausage.
Whisk together the eggs, heavy cream, and A Dab A Do Ya!®   Then pour over the cheese.
Spread gravy over entire casserole.
Top with 2-3 tbsp of more shredded cheese. (OPTIONAL)
Bake for 30-40 minutes at 350 degrees
Make ahead tips!
Make sure the sausage and gravy are completely cool before building the casserole.
Cook time will need to be increased by about 20 minutes.
If the casserole begins to brown too much before the eggs and biscuits are set, tent the casserole dish with foil until done.