Brooklyn Dumpling Shop's "Famous" Peanut Satay Sauce Recipe
A restaurant that's popular in New York City opened its first Texas location this week. Brooklyn Dumpling Shop brings its quick-serve concept to Deep Ellum.
Customers can order online or in person at a kiosk and then pick up their order in a locker from what's called an automat. 
The menu has traditional dumpling options and some unexpected creations like buffalo chicken and pepperoni pizza.
Its founder shared the recipe for one of its specialties.
Peanut Satay Sauce
Ingredients
1 cup unsalted fresh dry roasted peanuts (finely ground)
⅓ cup water
2 tablespoons brown sugar
1 to 2 tablespoons coriander
1 to 2 tablespoons cumin
1/2 teaspoon chili pepper
¼ tablespoons lemon grass
½ tablespoon ginger
2 tablespoons flour
8 oz of dairy of choice (coconut milk, soy, whole milk or heavy cream)
Salt to taste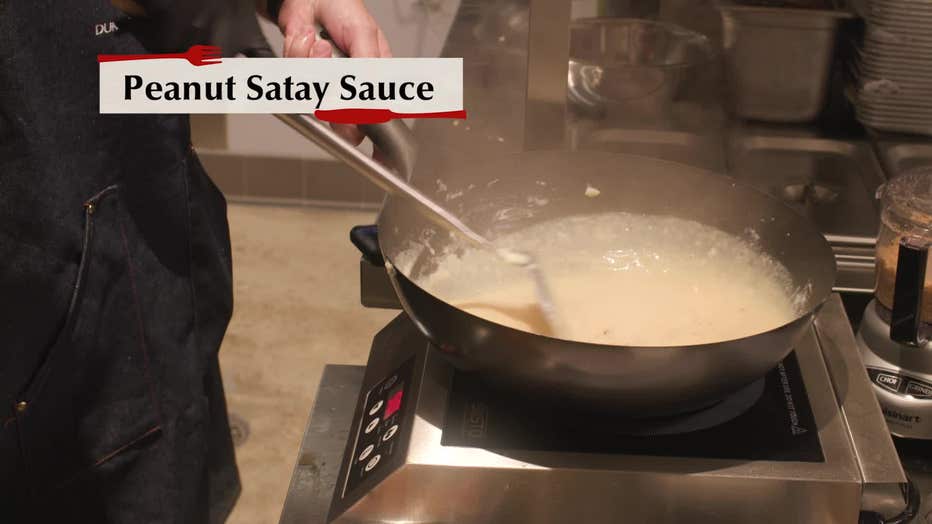 Instructions 
Combine all dry ingredients into a bowl; mix thoroughly to make the "Satay Spice".
 Add 8 oz of chosen dairy or dairy-free milk in saucepan over medium heat. 
 Add 4 tablespoons of Satay Spice to pan. 
 Bring to a boil for 3–5 minutes until sauce thickens (please note 7–10 minutes for nondairy to thicken). Stir consistently. When thickened, let sit and add to your favorite cooked noodle, fried, or pan-fried protein dish with or without vegetables.