Blue Goose Cantina's Chicken, Jalapeno and Cheese Tamales Recipe
The history of tamales during the Christmas season dates to 8,000 B.C. when wrapped tamales were part of ritual offerings. Now, tamales are a holiday tradition for many families. 
Whether you make them at home or get help with a "Box o Tamales" or party pack, Blue Goose Cantina is here to help.
General manager Texas White shares the restaurant's recipe.
Chicken, Jalapeno and Cheese Tamales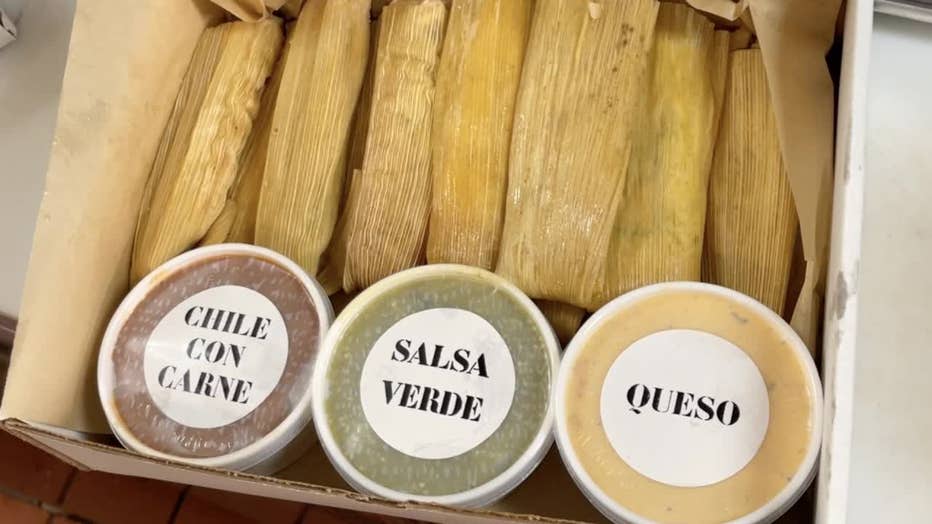 Makes Six (6) Servings – 12 Tamales
18 oz. cooked shredded Chicken Breast
1 Cup Salsa Verde
1 Cup Jack Cheese
1 Package of Corn Husks - Soaked and hydrated in a large pot of hot water for about 20 minutes.
½ cup sliced pickled Jalapeños
Masa for Tamales:
1 Cup Lard or Vegetable Shortening, at room temperature
2 Cups real Corn Masa
1 Tbsp. Salt
½ Cup Chicken Broth
2 Tbsp. Baking powder
Beat the lard or shortening in a mixer until fluffy. Add the masa, salt, chicken base, and baking powder and mix until incorporated.
Use a # 20 scoop, to portion 2 oz. dough balls, and place them on an aluminum cookie sheet.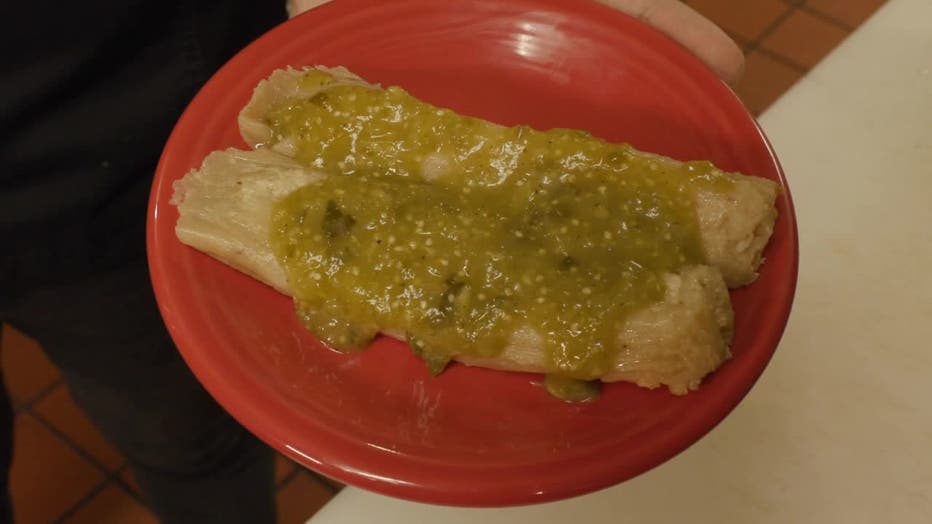 Cooked Chicken for Tamales: 
1 Chicken breast (large enough to render 18 oz. shredded chicken)
1 Cup Celery, diced
1 White or Yellow Onion, diced
1 Tbsp. Salt
About 2 Cups Water
Boil chicken breast with enough water to cover the meat along with celery, onion, and salt. Simmer for about one hour.  Remove the chicken breast and shred with a fork.
Assembling the Tamales:
Place shredded chicken, Salsa Verde and cheese in a mixing bowl and toss until well blended.
Spread masa dough ball across 2/3 of the corn husk.  Leave edges clear for wrapping.
Add 2 ounces of the chicken mixture and spread over the masa.
Add 3 slices of jalapeños on top of the mixture and roll the husks.
Steam the tamales in a steamer pot for 45 minutes to an hour. 
Remove, and let cool for 10-15 minutes before serving.
Tamales can be refrigerated for up to two days. 
LINK: bluegoosecantina.com