Winter Storm Watch across North Texas starts Wednesday evening
DALLAS - A Winter Storm Watch will go into effect Wednesday evening across North Texas.
The National Weather Service issued the watch days ahead of an expected round of winter weather that is forecasted to include snow and ice starting late Wednesday and through Thursday.
The counties under the watch are: Dallas, Tarrant, Denton, Collin, Rockwall, Montague, Cooke, Grayson, Fannin, Lamar, Jack, Wise, Hunt, Delta, Hopkins, Palo Pinto, Parker, Kaufman, Eastland, Erath, Hood and Somervell County.
MORE: Weather coverage
Heavy mixed winter precipitation is possible, with the NWS saying there could be total snow accumulations of up to two inches and ice accumulations of up to three tenths of an inch in parts of the region.
If that occurs, travel is expected to be very difficult. Ice accumulations and gusty winds on utility lines could cause power disruptions.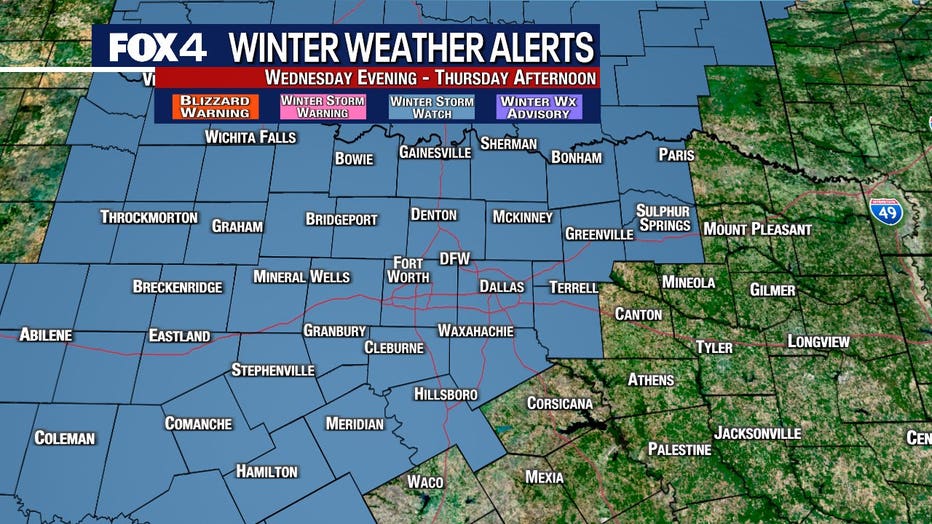 North Texas weather forecast
Wednesday will likely have showers in the afternoon into the evening and highs in the upper 50s. Temperatures fall into the mid 50s in the afternoon. Transition to freezing rain and sleet will happen late Wednesday into early Thursday. Overnight will be much colder with lows in the lower 20 and wind chills as low as 15.
Thursday will start cloudy with a chance of snow showers. Freezing rain and sleet likely in the morning, then a chance of sleet with a slight chance of freezing rain in the afternoon. There's likely little or no snow accumulation. Highs are expected to remain below freezing, around 30, with wind chills as low as 15.
The precipitation will be done by Thursday night, with lows around 20 and wind chills as low as 5.
Local and state officials preparing resources
Gov. Greg Abbott announced he will have a press conference Tuesday in Austin on emergency preparations ahead of the storm. 
The governor, ERCOT and the Public Utility Commission were heavily criticized following last year's deadly storm and the crippling power outages. 
Gov. Abbott and energy officials have all pledged the lights will stay on this time.
And on Monday, ERCOT said powerplants that had any planned outages because of things like maintenance have been ordered to postpone them.
"This should not be a learning opportunity. There should be business as usual," said energy expert Ed Hirs. "We shouldn't see any blackouts or any calls for conservation. If they fix it the way they said they have, we won't miss a beat."
With there being possible ice in the forecast, downed power lines could become an issue. 
Oncor, which declined to do any interviews Monday, said in a statement that resources are being pre-positioned ahead of the severe weather to ensure restoration work can be done as soon as possible. 
Dallas Emergency Management plans on having a winter storm press conference Tuesday. 
Starting Wednesday at noon, the Dallas Office of Homeless Solutions will open a temporary shelter at Fair Park's automobile building near the DART Station. 
With many having anxiety anytime it gets below freezing, Hirs says in terms of the power grid's reliability, this stress test still is not the same as last year. 
"I think with this cold front, we're probably in good shape. It doesn't appear to be coming in with the ice storms that we had last winter," he said. "It appears to be milder. But once again, you're asking an economist to opine on the weather. I mean, we've we got at least two ways this can go wrong."
Winter weather road preps
TxDOT is aggressively pre-treating roadways with brine, a salt based deicer.
"We're paying special attention to the elevated surfaces, the bridges, overpasses, the interchanges," said spokesman Val Lopez.
State crews began Sunday and are targeting roadways known for potentially dangerous outcomes in below freezing temperatures. The brine can be applied up to a week in advance. 
TxDOT also has more heavy-duty winter equipment to deploy compared to 2021.
"This year we've added another tool to the toolbox. We've added plows. We basically have double the amount of plows from last year to this year," Lopez said.
The city of Fort Worth is also in full winter prep mode.
"We've got about 6,000 tons of sand salt mixture around town at different locations," said Juan Cadena, Operations Officer.
It will put down brine on Tuesday, noting rain could be a factor.
"The danger with that is if we get too much rain it could wash away our brine. But we'll brine anyway. That way if it doesn't rain we're prepared and we'll have it down and it'll help melt some of that ice as it starts freezing," Cadena said. "Certain bridges tend to freeze first. So north, up north and northwest is where we tend to see the bridges start freezing first."
Officials across the region are hoping to avoid a repeat of last year's massive early morning pile-up in Fort Worth on I-35W. It involved 133 vehicles, killing six and injuring dozens. The freeway is maintained by North Tarrant Express.
The NTSB investigation into the February 2021 crash is still ongoing, but it noted the lanes were pretreated two days earlier, but another round of freezing rain moved in four hours before the crash.
RELATED: ERCOT says grid is ready; North Texas homeowners prep for icy forecast
North Texans make last-minute runs for food, supplies
People are packing the grocery stores to stock up for a couple of days stuck at home. Hardware stores are also seeing a run on supplies.
People are focused on two things: getting enough food to make it through the week and getting supplies for weatherproofing their homes.
With temperatures in the teens headed to North Texas later this week, families in Fort Worth are headed to the stores to stock up.
The threat of widespread blackouts from a power grid failure like last year's storm is much lower. 
But it's still fresh in people's memories, and Bilal Khurshid is making sure he's got enough non-perishables to last a few days.
"We lost power. I know some people in our neighborhood had some flooding," he said. "It was a mess so hopefully it's not that bad again."
RELATED: North Texans prep homes, buildings for winter weather to avoid costly repairs
At 3H Hardware Store in Fort Worth, employee Christopher Martinez says he's had a steady stream of customers asking for items to help weatherize their homes.
"It's been a lot of stocking on foam insulation, the foam faucet stuff, the insulators, a lot of that stuff honestly," he said. 
Piping and pipe sealant are some of the most requested items.
"This is plumber's putty basically to patch up any holes or anything like that whenever it comes down to pipes that are getting messed up," Martinez said.
But for some, finding what they need required multiple trips.
But for most people, a little extra time searching the stores is worth it to keep the family comfortable in the cold.