Canadian wildfire smoke seen on East Coast has made its way to Texas
The smoke from wildfires in Canada have forced flights to be delayed and major events to be canceled in the U.S.
The orange images from the East Coast look unreal, with the wildfire smoke making the skyscrapers in New York City disappear.
"This is insane, this is the sun peaking through all of the haze and smoke that's in the sky," said Gina Miller.
The air quality is dangerous and people are wearing masks again.
Outdoor events like Major League Baseball games were postponed Wednesday and Thursday due to the smoke.
NEW YORK, NY - JUNE 7: A general view of hazy conditions resulting from Canadian wildfires at Yankee Stadium before the game between the Chicago White Sox and the New York Yankees on June 7, 2023, in New York, New York. (Photo by New York Yankees/Getty Images)
"Have we seen any smoke? Kind of, yeah. The first thing in the morning, if you looked to the east you can see the haze in the sky," said FOX 4 meteorologist Evan Andrews.
In North Texas, we have an air quality concern of our own, but the primary cause is not from those fires.
The Dallas-Fort Worth area has been under an air quality warning.
The orange level is where the Metroplex has been for the last two days, meaning air quality is unhealthy for some people.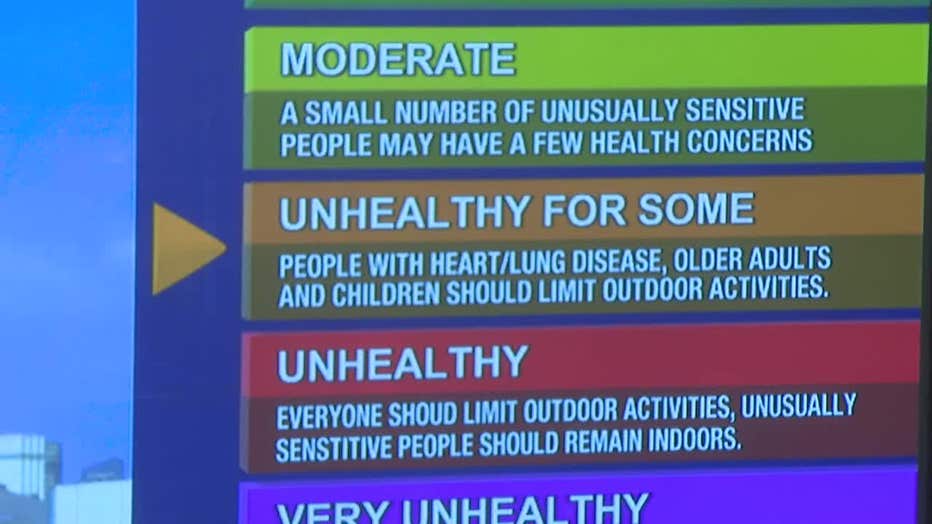 Andrews says the local issue is not primarily due to the smoke.
"Not everybody is going to notice a breathing issue. On a day like today, the problem is you have mold in the air. The ozone that has built up, a little smoke in the air. Sometimes there one thing, today there's about 3 things in the air today," he said.
The smoke caused another ground stop at airports in New York Thursday due to low visibility.
READ MORE: With world's worst air quality in NYC, 'sell my house fast' searches spike by 2,147%
Fort Worth-based American Airlines told us they are closely monitoring the impact.
In a statement the airlines said, "We will continue to adjust our operation as needed in conjunction with FAA ground delay programs. We've issued a travel alert allowing customers whose travel plans are affected to rebook with no additional fees."
American said they are providing employees who work outside with access to vehicles in between flights and giving them masks.
The Houston Astros are playing in Toronto. The roof was closed yesterday due to the dangerous air quality.
The Dallas Wings play in New York Sunday. It is unclear if that game will be impacted.