Dallas weather: Line of storms moving through North Texas Friday morning
A line of strong storms moved into North Texas early Friday morning.  
Most areas are under Severe Thunderstorm Watch until 9 a.m. All Severe Thunderstorm Warning have expired.
The squall line moved in west of the Metroplex just after 4 a.m. 
A tornado warning was issued for Parker and Wise County until 5:30 a.m. and FOX 4 Meteorologist Evan Andrews believes there may have been at least one small spin up near Poolville. 
The Wise County Emergency Operations Center confirmed numerous reports of damage to homes, trees and power lines. Most of the damage is in the southwestern part of Wise County, from West Highway 199 to just south of Decatur.
Tree down across CR 3355 and School House Road in Cottondale in Wise County | Courtesy: BCGtheFirst
Poolville ISD canceled class for the day and Weatherford ISD has delayed bus routes by 30 minutes because of the weather and storm damage.
Lewisville ISD also said Marcus High School in Flower Mound will start classes at 9:55 a.m. because of a power outage.
The line has weakened considerably but could still bring high winds and up to pea-sized hail.
A ground stop was issued at DFW International Airport until 7:30 a.m. due to the storms. Dallas Love Field issued one until 7 a.m.
Although those ground stops have been lifted, the airports are still dealing with delays.
The storms and wet roads could also slow down your drive into work.
Follow FOX 4 traffic reporter Chip Waggoner on Twitter for the latest on road conditions.
Live Updates
What caused those striped clouds in the North Texas sky on Monday
7-Day Forecast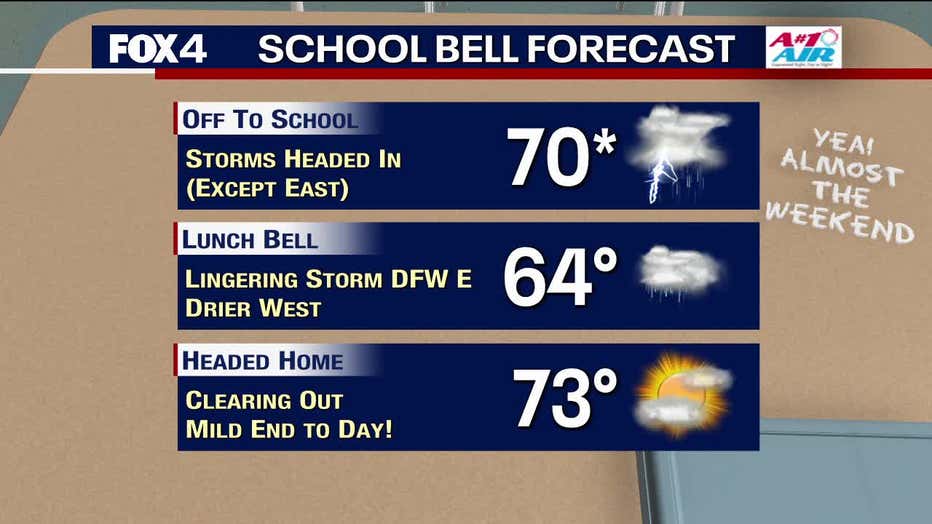 Temperatures will drop as the front moves in Friday morning.
After Friday, the weekend should be nice.
Highs are in the 70s on Saturday and Sunday.
Severe weather video and photos from around North Texas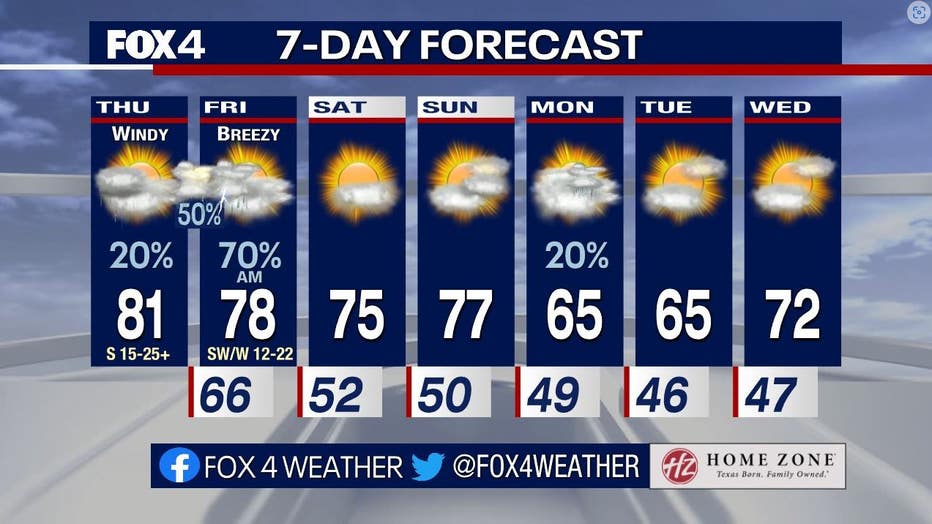 Things will be dry on Saturday and rain is expected for the southeast on Sunday.
A cold front comes to drop temperatures for the early part of next week.