Young's 28 help Oklahoma top Kansas State, end 6-game skid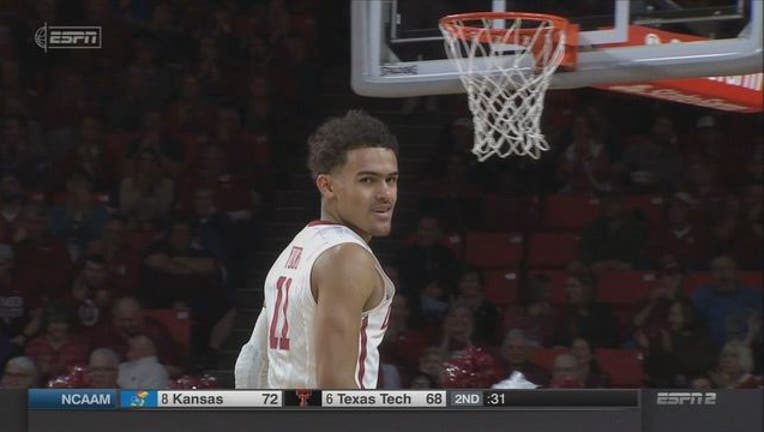 article
NORMAN, Okla. (AP) - Trae Young's entertaining act wasn't translating into wins for Oklahoma, and desperation had set in.
Finally, a more collective effort helped the Sooners snap their six-game losing skid. Young scored 28 points, his teammates chipped in, and Oklahoma topped Kansas State 86-77 on Saturday.
Young, the freshman point guard who leads the nation in scoring, was coming off a season-low 11 points in a loss to Kansas earlier in the week. He bounced back with a smart floor game - he made 7 of 10 shots from the field, including 6 of 9 3-pointers, and added seven assists.
Christian James scored 15 points and Brady Manek and Jamuni McNeace each added 10 for the Sooners (17-11, 7-9 Big 12), who shot 53 percent from the field.
"I talked to them and told them that I felt like our season was on the line," James said. "We needed this. We came out and competed, and that showed tonight."
Oklahoma hadn't won since Jan. 30 and had dropped two straight at home.
"When you haven't won in a while, it's tough to stay plugged in and keep the right frame of mind," Oklahoma coach Lon Kruger said. "Happy for the guys. Proud of the way they made shots and got some stops and did the things they needed to do to get one in the right column."
Kansas State handled Young in the first meeting and forced him into 12 turnovers as the Wildcats rolled past the Sooners 87-69 on Jan. 16. In the rematch, Young had five turnovers, though two came well after the Sooners had the game in hand. Kansas State coach Bruce Weber said Young's efficiency was the difference.
"Normally, he's got 21 shots or whatever it is," Weber said. "He still turned it over a few times, but he made shots and then made plays for them."
Barry Brown scored 28 points and Dean Wade added 15 points and 11 rebounds for Kansas State (20-9, 9-7). The Wildcats made just 4 of 21 3-pointers.
Young matched his 11-point total from the Kansas game in the first eight minutes against Kansas State. He hit a 3-pointer late in the first half to close out an 18-point first half and give the Sooners a 43-35 lead at the break.
James scored in close and was fouled, and he made the free throw to put the Sooners up 52-38 with 15:45 remaining. Young hit a deep 3-pointer to put the Sooners up 55-40, and it looked like Oklahoma might cruise.
Kansas State worked its way back into the game and cut its deficit to 63-56. A 3-pointer and a short floater by Manek helped put the Sooners up 10. Another three by Young made it 71-59 with just under six minutes left, and the Sooners remained in control from there.
Kruger said he could sense a different approach from the start.
"General focus and the sense of urgency," he said. "The awareness that we are running out of games and you got to line up and play better. I thought we played with that focus and that awareness throughout the game."
BIG PICTURE
Oklahoma: The Sooners desperately needed this one to strengthen its NCAA Tournament resume. Though the Sooners have numerous quality wins, the losing streak was enough to raise questions.
Kansas State: The Wildcats were getting votes for the Top 25, but probably won't get there with this loss. Overall, a road loss to a solid team likely won't hurt the Wildcats' NCAA hopes.
STAT LINES
Oklahoma shot 62 percent in the second half to maintain control of the game. The Sooners made 16 of 26 field goals and 4 of 10 3-pointers after the break.
QUOTABLE
Weber, on why Young shouldn't be Big 12 Player of the Year: "To me, the Big 12 player of the year should be from the people who win the league. That's just me. You know winning is what dictates who should be the Big 12 player of the year. But that is my opinion. Everyone has different opinions."
UP NEXT
Kansas State plays at TCU on Tuesday.
Oklahoma plays at Baylor on Tuesday.
___
Follow Cliff Brunt on Twitter: www.twitter.com/CliffBruntAP .
__
For more AP college basketball coverage: http://collegebasketball.ap.org and http://twitter.com/AP_Top25 .