W. Virginia tops No. 2 Baylor 77-66 for Big 12 women's title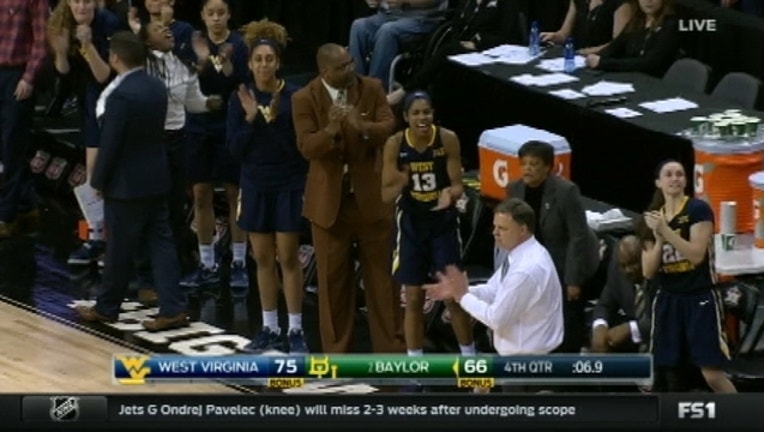 OKLAHOMA CITY (AP) - Tynice Martin scored 32 points, and West Virginia beat No. 2 Baylor 77-66 in the Big 12 women's championship game on Monday night.
Martin, a sophomore guard, was named the tournament's most outstanding player.
West Virginia had never won the Big 12 Tournament. The Mountaineers last won a conference tournament in 1989, when they were in the Atlantic 10.
Teana Muldrow added 15 points for West Virginia (23-10), which advanced to the final with Top 25 victories over Oklahoma and Texas.
Kalani Brown scored 19 points and Kristy Wallace had 17 points and nine rebounds for Baylor (30-3), which had won the last six conference tournaments.
The Lady Bears had won seven in a row against West Virginia, but the Mountaineers lost by just six at Baylor on Feb. 6 in their previous meeting and played with confidence from the start in the final.
BIG PICTURE
West Virginia: The Mountaineers were on the bubble for the NCAA Tournament after a rough finish to the regular season. They had dropped five of nine heading into the tournament to fall out of the Top 25. Now, they are in position to gain a high seed.
Baylor: The Lady Bears probably have done enough to remain a top seed in the tournament. Their body of work is impressive, including 11 wins over ranked teams. Baylor had scored at least 86 points in its four previous games, including a 103-64 win over Oklahoma.
UP NEXT
West Virginia and Baylor await their seeds and opponents for the NCAA Tournament.
___
Follow Cliff Brunt on Twitter: www.twitter.com/CliffBruntAP