Tyler Seguin scores in OT, Stars beat Flames 4-3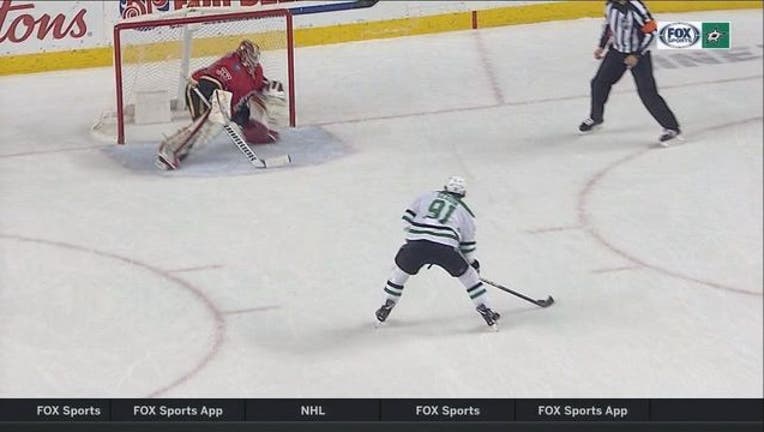 article
CALGARY, Alberta (AP) - Tyler Seguin scored 24 seconds into overtime to give the Dallas Stars a 4-3 victory over the Calgary Flames on Wednesday night.
Jamie Benn knocked the puck into the slot, where Seguin was wide open and put a shot inside the goal post on David Rittich. The goalie argued he had been interfered with by Benn, but the goal stood up after a video review.
Seguin also had an assist, and Benn, Jason Spezza, and Gavin Bayreuther added goals to help Dallas snap a four-game road winless streak. Khudobin made 30 saves.
Garnet Hathaway, Johnny Gaudreau and Mark Giordano scored for Calgary. The Flames are 4-1-1 in their last six.
Trailing 2-1, the Flames took the first lead midway through the third period on goals 1:10 apart.
Gaudreau tied it, firing a shot top corner for a power-play goal at 9:41. Giordano made it 3-2 with a similar-looking shot from a similar spot, again beating Khudobin with a rising shot over his glove.
The Stars tied it less than three minutes later. Matthew Tkachuk's clearing attempt went on to the stick of Bayreuther and the rookie defenseman fired his second of the season past Rittich.
The Stars regained the lead at 18:02 of the second period, needing just 23 seconds to strike on a power play.
NOTES: Rittich finished with 24 saves. He dropped to 8-2-1. ... The Stars improved to 6-1-1 in their last eight games at the Saddledome. ... Calgary LW Michael Frolik (lower body) is back skating. He has missed four games.
UP NEXT:
Stars: At Vancouver on Saturday night.
Flames: Host Los Angeles on Friday night.
___
More AP NHL: https://apnews.com/tag/NHL and https://twitter.com/AP_Sports