Towns, Crawford help Wolves edge Mavs 93-92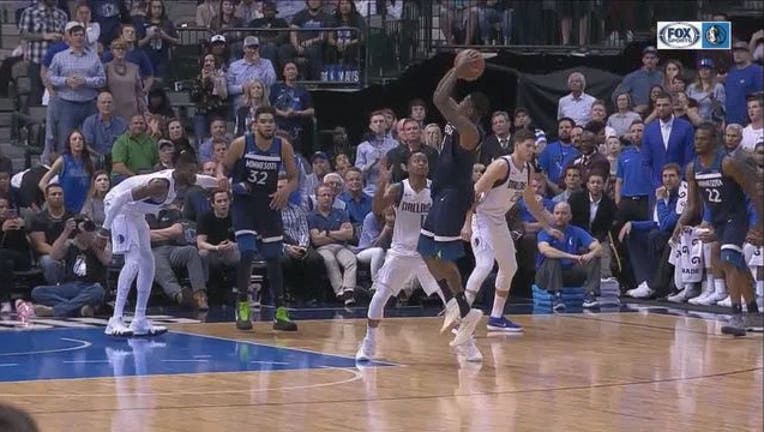 DALLAS (AP) - Karl-Anthony Towns had 21 points and 20 rebounds, Jamal Crawford scored 24 points and the Minnesota Timberwolves held off the Dallas Mavericks 93-92 on Friday night to gain ground in the tight Western Conference playoff race.
After shooting just 34 percent in the first half and trailing until midway through the third quarter, the Wolves turned to Crawford, who scored 15 points after halftime.
He hit three consecutive shots, including a 3 over a 1:14 stretch of the fourth quarter to give Minnesota a 74-68 lead. Nemanja Bjelica, scoreless for the first three quarters, hit two 3s to extend it to 85-73.
The Mavericks got within 91-89 on the second of consecutive layups by Dennis Smith Jr. off a steal with 28.3 seconds to play.
But Crawford came to the rescue again, posting up the smaller Yogi Ferrell and draining a jumper over him. Ferrell hit a 3 with 1.3 seconds left, but the Mavericks were not over the limit in fouls and could not foul the Wolves twice in the remaining time.
Harrison Barnes led Dallas with 19 points, and Smith had 17.
Minnesota entered the night in seventh place in the bunched-up Western Conference but moved into fifth with losses by Oklahoma City and New Orleans. Just three games separated fourth place from 10th in the West.
The Wolves play Utah, who entered Friday in eighth place, on Sunday and play 10th-place Denver twice over their final five games.
The Mavericks led for the entire first half and took their biggest lead early in the second quarter at 31-22.
Minnesota scored five points in the final 2.3 seconds of the half to get within 46-44 at the break. Jamal Crawford hit a 3-pointer off Towns' offensive rebound, and then Towns scored just before the buzzer after Dallas' Maxi Kleber inbounded the ball right to him.
BUTLER CLEARED FOR CONTACT
Wolves guard Jimmy Butler made the trip to Dallas and has been cleared for contact drills, using a brace on his right knee.
"He had a good workout, did the shoot-around and stayed and played after," coach Tom Thibodeau said. "He's been diligent with the rehab, going twice a day. He went through the non-contact great, didn't have any problems. This was the next step."
Thibodeau didn't put a timeline on Butler's return. Butler had meniscus surgery on Feb. 25, and Minnesota is 8-7 in the games he has missed.
TIP-INS
Timberwolves: Wolves assistant coach Rick Brunson will stay in Texas to watch his son Jalen lead Villanova in the NCAA national semifinals against Kansas on Saturday in San Antonio.
Mavericks: Nowitzki set an NBA record by playing in his 75th game this season, the most by a player in his 20th season in the league. ... Guard J.J. Barea sat out for personal reasons.
UP NEXT
Timberwolves: Host Utah on Sunday.
Mavericks: At Cleveland on Sunday. Dallas plays four of its final six on the road.
___
More NBA basketball: https://apnews.com/tag/NBAbasketball