Thomas gestures toward Seattle sideline after broken leg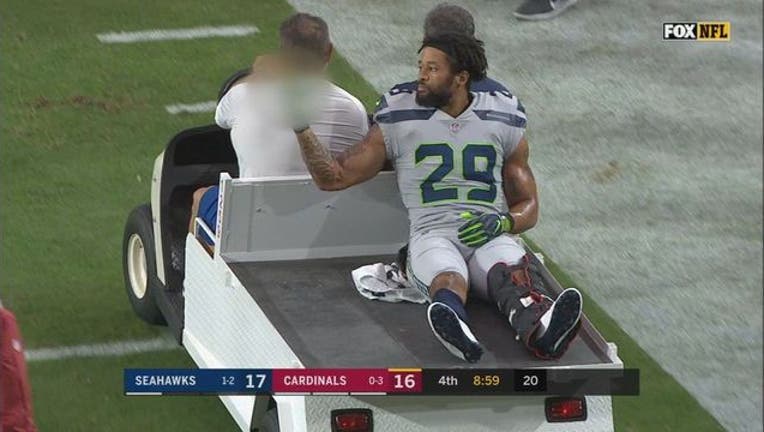 article
GLENDALE, Ariz. (AP) - Seattle safety Earl Thomas gave a parting finger to the Seahawks side of the field while being carted off with broken left leg against the Arizona Cardinals.
Thomas has been engaged in a back-and-forth with the Seahawks over a long-term commitment, missing multiple practices this season to prevent putting his future at risk.
He broke his leg defending a pass against the Cardinals in the fourth quarter and raised up his middle finger toward Seattle's side of the field just before the cart pulled into the tunnel.
"That is why you ask for certain things," Seahawks defensive end Frank Clark said. "Earl wanted an extension and at the end of the day he didn't get that. It sucks. It sucks to see a guy who puts his heart into something, put his all into his team and he doesn't get what he deserves."
Thomas has played eight seasons since Seattle selected him out of Texas with the 14th overall pick of the 2010 NFL draft.
The six-time Pro Bowler held out of training camp while seeking a contract extension and joined the Seahawks a week before the season despite having a contract that expires at the end of this season.
"We play a very, very emotional game," Seattle linebacker Bobby Wagner said. "I think sometimes you have to allow people to have their emotions. I don't think nothing of it. I think he has a long road ahead of him if it is the injury he is expecting."
Thomas was injured while covering Chad Williams, who caught a 22-yard touchdown pass from Josh Rosen to tie the game at 17-all. Thomas' lower left leg seemed to buckle as he dove on top of Williams in the end zone.
Players from both teams gathered around as the trainers worked on Thomas and his leg was put in an air cast before he was driven off.