Texas Tech slips in latest AP Top 25; TCU first team out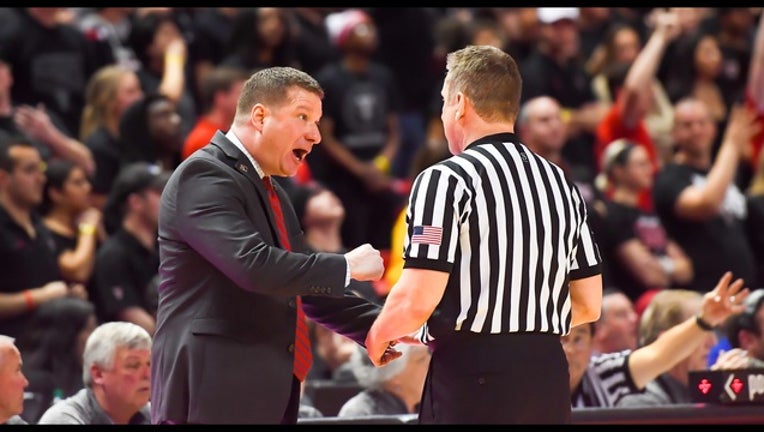 article
A second blowout loss to Villanova didn't stop Xavier from notching the program's highest AP Top 25 ranking a week ago. The Musketeers are rising again, passing the Wildcats on Monday to reach yet another program high at No. 3.
The poll switch comes after the Musketeers beat Georgetown in their only game last week and Villanova lost to unranked Creighton. The Wildcats dropped just one spot, to No. 4, and a game behind Xavier in the Big East standings.
Virginia firmed up its hold on the No. 1 ranking, receiving 48 votes from a media panel in the poll released on Monday, up six from a week ago. No. 2 Michigan State, which clinched the Big Ten title this weekend, received 17 first-place votes and Duke rounded out the top five.
The Musketeers (25-4, 13-3 Big East) rolled over Georgetown 89-77 despite leading scorer Trevon Blueitt being held to two points on 1-of-10 shooting. Blueitt, who averages 19.8 points per game, has 3 combined points his last two visits to Washington, D.C.
"I hope that the Big East tournament isn't played here," Xavier coach Chris Mack said he told Bluiett in jest toward the end of the game. "I think maybe folks in D.C. that don't have a TV and come to the games they may think he's an average player, a below average player."
Virginia was the top overall seed when the NCAA Tournament selection committee revealed its initial rankings of the top 16 teams two weeks ago. The Cavaliers moved up to No. 1 despite losing to Virginia Tech a day before the rankings were released.
Last week, Virginia (26-2, 14-1 ACC) won its third ACC title in five years by dominating Pittsburgh , limiting the Panthers to seven first-half points in a 66-37 victory.
The Cavaliers are still in line to receive the No. 1 overall seed in the NCAA Tournament.
"It was something that we knew about coming into this game, so it was exciting," Virginia forward Isaiah Wilkins said. "It is a good feeling, but there is still a lot of basketball to be played."
KANSAS CLIMBS, ZAGS FALL
Kansas and Gonzaga both won conference titles this past weekend.
The Jayhawks' Big 12 title was enough to move them ahead of the Zags in this week's poll.
Kansas (23-6, 12-4) clinched its record-setting 14th straight Big 12 title with a 74-72 win over No. 6 Texas Tech on Saturday. The title broke the record the Jayhawks held with UCLA, which had 13 straight Pac-10 titles from 1967-79.
Kansas moved up two spots to No. 6.
The Jayhawks' move cost Gonzaga (27-4, 17-1) a spot in the poll despite clinching its 18th regular-season West Coast Conference title in the past 19 years. The Bulldogs dropped a spot to No. 7.
RED RAIDERS FALLING
Texas Tech tied Gonzaga at No. 6 last week for the program's highest ranking.
The Red Raiders (22-7, 10-6 Big 12) took a big tumble this week, dropping to No. 12 after losses to Oklahoma State and Kansas ran their losing streak to three games. The streak has coincided with a toe injury to Keenan Evans suffered against Baylor on Feb. 17. He scored in single digits in all three games.
SMALL CHANGES
The AP Top 25 has been volatile most of the season, with drastic changes coming nearly every week.
Poll movement was limited to small changes for the most part this week.
Florida State dropped out of the poll and Kentucky moved back in. Texas Tech had the biggest drop of teams still in the poll and Arizona was next, falling five spots to No. 19.
The biggest move up: Ohio State three spots to No. 13.
                                          Record          Pts           Prv
 1. Virginia (48)                    26-2          1608           1
 2. Michigan St. (17)            28-3          1571           2
 3. Xavier                             25-4          1422           4
 4. Villanova                         25-4          1416           3
 5. Duke                               24-5          1362           5
 6. Kansas                           23-6          1272           8
 7. Gonzaga                         27-4          1231           6
 8. Purdue                            26-5          1178           9
 9. North Carolina                22-7          1140          10
10. Cincinnati                      25-4          1013          11
11. Wichita St.                     23-5            945          13
12. Texas Tech                    22-7            887            6
13. Ohio St.                         24-7            791          16
14. Auburn                          24-5            781           12
15. Michigan                       24-7            753           17
16. Tennessee                    21-7            564           19
17. Rhode Island                23-4             558          18
18. Clemson                       21-7             499          15
19. Arizona                         22-7             450          14
20. West Virginia                21-8             429           21
21. Nevada                         25-5            386            20
22. Saint Mary's (Cal)         27-4            318            22
23. Kentucky                      20-9            174             --
24. Middle Tennessee        23-5            144            24
25. Houston                        22-6              45            23
Others receiving votes: TCU 41, Butler 34, St. Bonaventure 29, NC State 28, Creighton 26, Loyola of Chicago 8, Southern Cal 7, Florida St. 4, Arkansas 3, Seton Hall 3, Virginia Tech 2, Boise St. 1, Oklahoma 1, Florida 1.
___
For more AP college basketball coverage: http://collegebasketball.ap.org and http://twitter.com/AP_Top25