Texas Tech moves up a spot in AP Top 25; A&M and OU drop out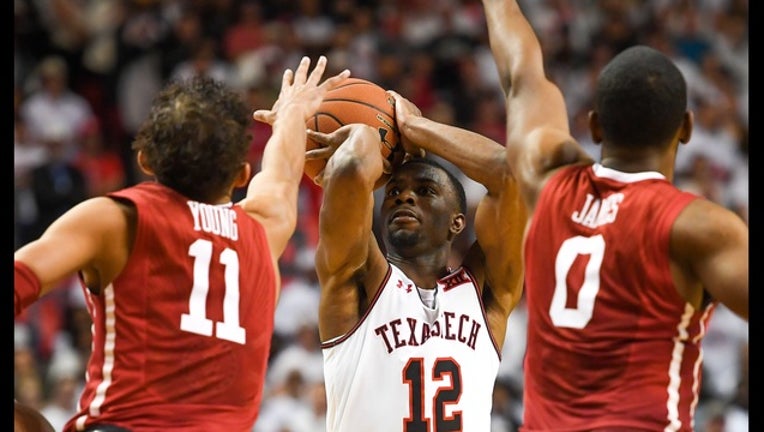 RALEIGH, N.C. (AP) - Virginia strengthened its hold on No. 1 in the AP Top 25 as it coasts to an Atlantic Coast Conference regular-season title, while Duke made a big jump after a pair of impressive wins without its top freshman.
The Cavaliers earned 42 of 65 first-place votes in the poll released Monday. That's 12 more than last week, when they reached No. 1 for the first time since the Ralph Sampson era.
The top four remained unchanged, with No. 2 Michigan State earning 19 first-place votes after rallying from 27 down to beat Northwestern. Third-ranked Villanova got the other four first-place votes after winning at No. 4 Xavier. And Duke jumped seven spots to No. 5 after beating Virginia Tech and Clemson despite playing without Marvin Bagley, the ACC's scoring and rebounding leader who is recovering from a knee sprain.
Virginia (24-2, 13-1 ACC) long ago took the drama out of the ACC race with a 12-0 start and hasn't played since winning at Miami last Tuesday. The Cavaliers lead second-place Duke by three games in the loss column and own the head-to-head tiebreaker from their win at Cameron Indoor Stadium on Jan. 27 , so they can clinch at least a share of the regular-season title and the No. 1 seed for the ACC Tournament in Brooklyn by beating Georgia Tech on Wednesday.
Win that one, and they travel to Pittsburgh - now 0-15 in the league - to claim the regular-season race outright.
"You always start the year and you're trying to obviously be about the moment, but you want to have a chance to try to win and be a part of ACC regular-season championships," Virginia coach Tony Bennett said Monday. "With this league and the depth and the amount of games, that would be a tremendous thing to do, so to have that opportunity at this stage with some games left is really good."
TOP 10 CHANGES
It was a tough week at the top of last week's poll, with seven of the top 10 teams losing at least once, so there was a shuffle Monday.
Texas Tech and Gonzaga were tied for No. 6, with the Red Raiders inching up a spot and the Bulldogs moving up three. Kansas jumped five spots to No. 8 after beating West Virginia , followed by Purdue (which slid three spots) and North Carolina - which has won five straight and climbed four spots to No. 10.
MILESTONE
Middle Tennessee checked in at No. 24, marking the first AP Top 25 poll appearance in program history.
TOP RISERS
While Duke had the biggest jump of the week, No. 13 Wichita State moved up six spots after beating Temple and then-No. 5 Cincinnati . No. 17 Michigan joined Kansas in making a five-spot move after wins against Iowa and then-No. 8 Ohio State .
LONGEST SLIDES
The Buckeyes had a rough week with double-digit losses at Penn State and Michigan, leading them to the biggest fall in Monday's poll. Ohio State fell eight spots to No. 16.
St. Mary's fell seven spots to No. 22 after losing at San Francisco, while the Bearcats fell six spots to No. 11 after losses to Houston and Wichita State.
NEWCOMERS
Speaking of Houston, Kelvin Sampson's Cougars checked in at No. 23 for the program's first AP poll appearance since spending a week at No. 25 in December 2005. Before that, Houston's last poll appearance was a week at No. 25 in January 1993. Those are the program's only appearances since future NBA great Hakeem Olajuwon was the Cougars' big man on the way to being the No. 1 overall draft pick in 1984.
Florida State re-entered the poll at No. 25. The Seminoles were ranked for five weeks earlier this year.
SLIDING OUT
Oklahoma and freshman Trae Young - the nation's scoring and assists leader - went from unranked in the preseason all the way to No. 4 on Jan. 15. But the Sooners have collapsed with five straight losses and that sent them back to unranked status.
Two other teams that had reached the top 5 as of Christmas Day fell out of the poll again. Texas A&M, which peaked at No. 5, fell out from No. 21 after losses to Missouri and Arkansas . Arizona State, which peaked at No. 3, fell out from No. 25 after losing to Arizona.
                                        Record           Pts            Prv
 1. Virginia (42)                  24-2            1601            1
 2. Michigan St. (19)          26-3            1565            2
 3. Villanova (4)                 24-3            1509            3
 4. Xavier                           24-4            1398            4
 5. Duke                             22-5            1292           12
 6. Texas Tech                   22-5            1206            7
 6. Gonzaga                      25-4             1206            9
 8. Kansas                         21-6            1166           13
 9. Purdue                         24-5            1130             6
10. North Carolina            21-7            1074            14
11. Cincinnati                    23-4              954             5
12. Auburn                        23-4              873            10
13. Wichita St.                  21-5              870            19
14. Arizona                       21-6              831            17
15. Clemson                     20-6              683            11
16. Ohio St.                      22-7              680             8
17. Michigan                     22-7              615            22
18. Rhode Island              21-4              455            16
19. Tennessee                  19-7              427            18
20. Nevada                       23-5              330            24
21. West Virginia              19-8              329            20
22. Saint Mary's (Cal)       25-4              291            15
23. Houston                      21-5              263             --
24. Middle Tennessee      22-5                87             --
25. Florida St.                   19-8                63             --
Others receiving votes: Baylor 52, Kentucky 33, Arizona St 32, Arkansas 23, UCLA 20, St. Bonaventure 13, Virginia Tech 12, Creighton 10, Penn St. 6, Kansas St 5, Missouri 5, Texas A&M 4, TCU 4, Butler 2, Loyola of Chicago 2, Alabama 1, Oklahoma 1, Boise St. 1, ETSU 1.
___
More AP college basketball: http://collegebasketball.ap.org and http://www.twitter.com/AP_Top25
___
Follow Aaron Beard on Twitter at http://www.twitter.com/aaronbeardap