Texas rallies to beat Texas Tech 61-52 in Big 12 opener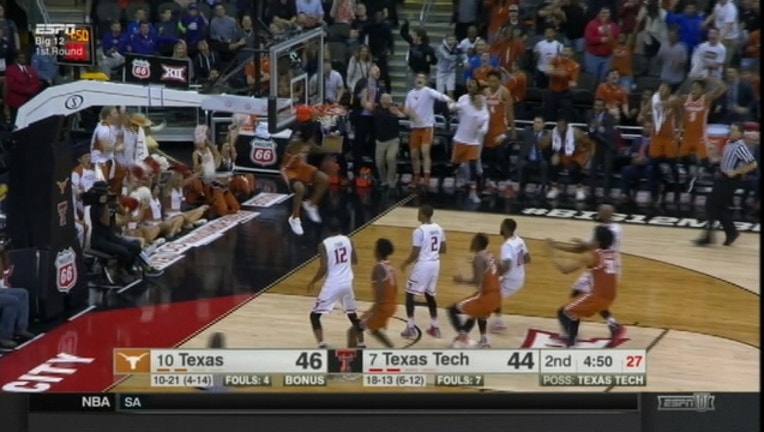 KANSAS CITY, Mo. (AP) - Texas coach Shaka Smart drove home a very simple point to his players in the halftime locker room Wednesday night: If they didn't turn things around in a hurry, their season was over.
"When he said that," Texas guard Kerwin Roach Jr. said later, "everyone's flip switched."
Andrew Jones proceeded to pour in 15 points, Roach had all 13 of his after the break and the No. 10 seed Longhorns rallied past No. 7 seed Texas Tech 61-52 in the opening round of the Big 12 Tournament.
They'll play No. 11 West Virginia in the quarterfinals on Thursday night.
"I thought the second half, our guys really made a decision - the last 10 minutes or so - just to be aggressive and attack," Smart said. "I told those guys, I said, 'What do you have to lose? You have nothing to lose. We have a great opportunity to attack. The game is not over.'"
Not by a longshot.
Jarrett Allen also had 10 points for the Longhorns (11-21), who were abysmal from beyond the arc for 35 minutes, only to heat up when it mattered most. And that was enough to send a team that had lost seven straight, a bunch of them in close fashion, to a win that extended its season.
"We really dug in and started playing harder, you know?" Jones said. "One more degree."
Keenan Evans had 11 points and Anthony Livingston and Matthew Temple scored 10 apiece for the Red Raiders (18-14), whose NCAA Tournament hopes have evaporated over the past few weeks.
The Red Raiders lost four of their last five in the regular season, including a double-overtime loss to the Mountaineers and an overtime loss to Iowa State. But a deep run in the Big 12 Tournament just might have been enough to rescue coach Chris Beard's team on Selection Sunday.
For about 35 minutes, it looked as if the Red Raiders were on their way.
They built a 12-point lead late in the first half and carried a 26-20 lead into the break. But the Longhorns began to methodically chop into it, closing within 37-31 on a deep 3-pointer by Mareik Isom with 12:45 to go - to that point, the Longhorns had been just 1 for 16 from beyond the arc.
Texas Tech answered with back-to-back baskets, but Texas proceeded to rip off a 16-2 charge over the next six minutes that gave the Longhorns their first lead of the game.
"They executed in the last 10 minutes of the game," Temple said, "and we didn't."
Roach began the run with a dunk, curled in back-to-back 3s a few minutes later, added a couple of free throws and then converted an alley-oop dunk that forced Texas Tech to call timeout.
It didn't do much to shift the momentum.
Isom answered a couple quick baskets by Texas Tech with his second 3-pointer to make it 52-48 with 2 1/2 minutes left and, after a shot clock violation, Jones scored to give Texas a cushion.
The Longhorns took care of the rest from the foul line.
"There's only one team in college basketball that ends with a win, that's on a Monday night in April," Beard said. "So as disappointing as our ending is, the bottom line is it's an ending.
BIG PICTURE
Texas looked like an entirely different team in the closing minutes, hitting three of its final four 3-pointers. Then, a 16-for-20 performance from the foul line helped the Longhorns clinch the win.
Texas Tech shot just 36 percent from the field, went 5 of 19 from beyond the arc and struggled to get to the foul line. The Red Raiders only attempted eight foul shots in the game.
UP NEXT
Texas gets ready for the second-seeded Mountaineers.
Texas Tech wonders whether it is headed to the NIT next week.
___
More AP college basketball: www.collegebasketball.ap.org and https://twitter.com/AP_Top25