Texas coach Strong wants 'restart' after Notre Dame blowout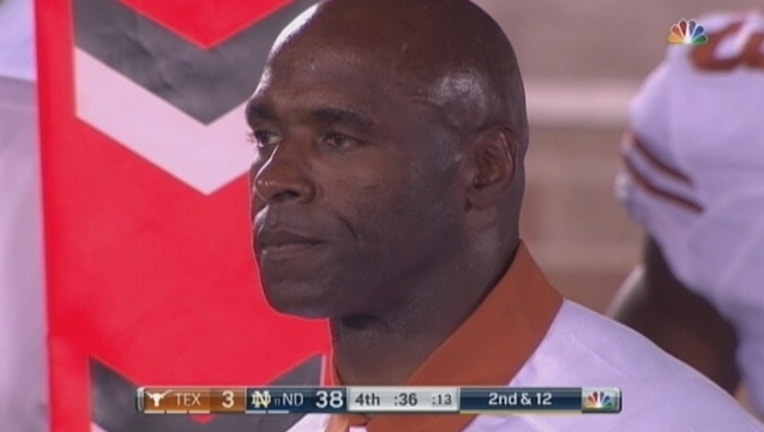 article
AUSTIN, Texas (AP) — After yet another blowout loss in which the Longhorns looked completely overmatched, Texas coach Charlie Strong said Monday he'd like to "restart" the season.
Texas fans thought the restart came 20 months ago when the Longhorns hired him to replace the fired Mack Brown. But one game into the 2015 season and Texas (0-1) is facing the same old questions about the play at quarterback, a lack of scoring and yet another blowout loss on the national stage.
After the 38-3 loss at No. 11 Notre Dame, Strong was facing new ones about whether he plans to shake up his offensive coaching staff, and even if the next few weeks are critical to his own tenure at Texas.
The Longhorns next play Rice (1-0).
"Our goal is to win the (Big 12) championship," Strong said. "We know this week we have to go play well ... millions and millions of people are involved in this program and we have to give them hope. They have to see progress."
There was none to speak of against Notre Dame, a game that looked an awful lot like blowout losses to TCU and Arkansas to end the 2014 season.
Junior quarterback Tyrone Swoopes continued to struggle. An offensive line with two freshmen starters couldn't protect him or open lanes for runners. The Longhorns managed just eight first downs and after the first full weekend of the season, they rank last in the nation in total offense and scoring.
All of this comes after an offseason in which Texas focused on a developing Swoopes and retooling the offense to embrace the spread.
There was little evidence of that against Notre Dame except for a no-huddle element that not only didn't gain many yards, but sent the defense back out on the field even quicker than before.
"I was hoping I'd see a big difference myself," Strong joked Monday.
Strong insisted offensive coordinator Shawn Watson would still call plays this week but also noted there's an "evaluation process" for his staff.
"We can't go through another season with a bad offense," Strong said.
Strong said redshirt freshman quarterback Jerrod Heard, a better runner that Swoopes but raw as a passer, will get a chance this week to earn the start against Rice.
Strong insisted Monday there wasn't much difference between Swoopes and Heard in training camp, yet Heard didn't do enough to unseat Swoopes over the previous eight months. Heard got in only a handful of plays against Notre Dame, running twice for minus-12 yards and completing one pass for 10.
"We have to win," Strong said. "The best person has to play."
Swoopes said he'll keep battling to remain the starter.
"That's up to the coaches. They see something in me they like, whatever it is," Swoopes said.
Texas wasn't expected to beat Notre Dame. It's how Texas lost that upset Longhorns fans. Texas is 72-21-1 all-time against Rice and hasn't lost to the Owls since 1994.
Lose Saturday night and the questions for Strong will only get tougher.