Texas A&M holds off Vanderbilt rally for 89-81 win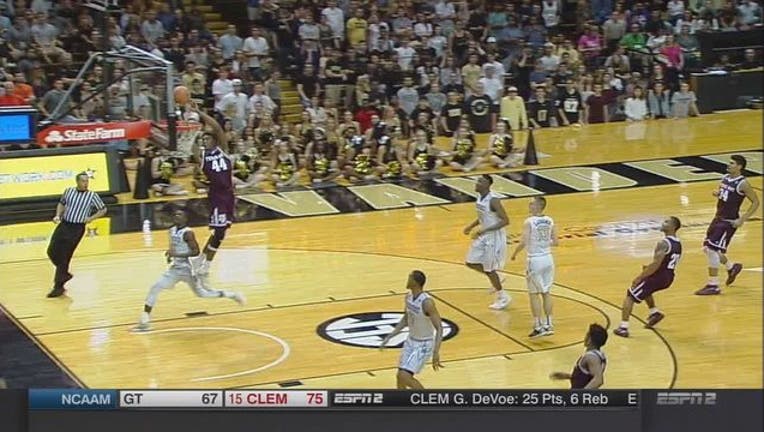 article
NASHVILLE, Tenn. (AP) - Texas A&M found a way to hold off Vanderbilt.
Now, the Aggies hope to find a way into the NCAA Tournament.
Texas A&M built a 24-point lead in the second half of Saturday's 89-81 win at Vanderbilt, but the Commodores narrowed the gap to four twice in the final 35 seconds.
Tyler Davis, who led the Aggies (18-11, 7-9 Southeastern Conference) with 22 points and nine rebounds, is optimistic about his team's chances entering the final two games of the regular season.
"I want to win out," said Davis, a 6-foot-10 junior. "I think we need two of them, but nevertheless I want to have as much momentum as we can. We're going to go into the tournament. We're going to win these next two games and I feel like we have the confidence in ourselves to go do it."
The Aggies enjoyed one of their best shooting games of the season with a 59 percent clip from the floor.
T.J. Starks scored 18 points and D.J. Hogg added 16 as Texas A&M ended its three-game losing streak.
The Aggies used their height advantage to outscore the Commodores 38-26 in the paint.
Admon Gilder had 11 for Texas A&M, which won its first game in five tries at Memorial Gym.
"It's good to finally get a win here in Nashville against a Vanderbilt team that's always hard to play here," Aggies coach Billy Kennedy said. "I was just praying we would make some free throws."
Gilder and Hogg went a combined 8 for 8 from the foul line during the final 35 seconds. Texas A&M hit 21 of 32 free throws for the game.
Riley LaChance led last-place Vanderbilt (11-18, 5-11) with 23 points after a slow start. He made six 3-pointers and Jeff Roberson added 21 points.
The loss ended the Commodores' five-game home winning streak.
"For 35 minutes, I thought A&M just had a great rhythm on offense and we really didn't get too many stops," Vanderbilt coach Bryce Drew said. "Last five minutes, we played much more physical. We got a couple steals that got us out in transition and at that point it was nice that we were able to chip away at the lead."
Texas AM led 72-48 with 6:52 left before Vanderbilt made a 23-6 run, narrowing the deficit to seven with just over a minute to play.
Vanderbilt freshman Saben Lee almost had a triple-double with 19 points, nine rebounds and nine assists.
"Coach Drew has continued to try and push me to just bring more to the table for the team and that's what I've been trying to do," Lee said.
Kennedy credited the Aggies' good shooting performance to sharing the ball better and going inside-out.
"Just about every possession we tried to get a post touch and play out of the post," Kennedy said. "We did a better job of handling their double team than we have done in the past."
BIG PICTURE
Texas A&M: The Aggies kept their NCAA Tournament hopes alive with a badly needed win.
Vanderbilt: The Commodores made a good run during the last seven minutes, but couldn't quite catch the Aggies.
AGGIE MILESTONE
Senior Tonny Trocha-Morelos became the 27th Aggie to reach the 500 career rebounds milestone by grabbing six against the Commodores.
BY THE NUMBERS
The Commodores made 14 of 29 from 3-point range. .Texas A&M outscored Vanderbilt 15-2 in second-chance points. . The Aggies, who made a 17-4 run early in the first half, took a 43-31 halftime lead.
MISSING BIG GUY
Vanderbilt's 6-foot-10 Djery Baptiste missed his second straight game with a foot injury.
UP NEXT
Texas A&M visits Georgia on Wednesday in its final road game of the regular season.
Vanderbilt hosts Missouri on Tuesday in its last home game of the season.