Texas A&M beats Alabama 68-66 behind Davis' 20 points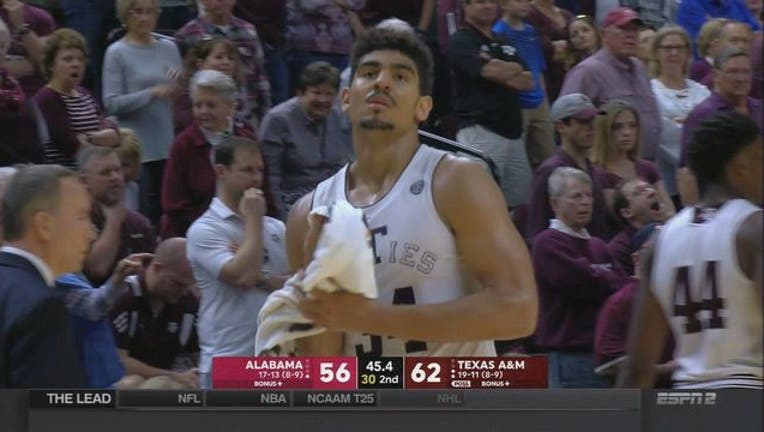 COLLEGE STATION, Texas (AP) - Junior center Tyler Davis scored 20 points, including a key dunk late in the game, and Texas A&M defeated Alabama 68-66 on Saturday.
The Aggies (20-11, 9-9 Southeastern Conference) closed out the regular season with a three-game winning streak, while the Crimson Tide (17-14, 8-10) ended by losing five straight.
The Aggies led 54-53 with 3:47 remaining when A&M forward D.J. Hogg sank a 3-pointer from the far left corner. Following an Alabama turnover and a timeout, the Aggies increased the lead to 59-53 on the dunk by Davis in traffic with 3:10 left.
The game was delayed for a few minutes with 32 seconds remaining and A&M leading 63-59 after A&M freshman guard T.J. Starks shoved Alabama freshman guard Collin Sexton in the head following some heated words.
Sexton drew a technical and Starks was ejected. A&M's Admon Gilder already was going to the line for two free throws at the time of the exchange, and he shot the two technical free throws as well, in making 3-of-4.
Sexton led Alabama with a game-high 23 points, while Davis grabbed a game-high 10 rebounds. The Aggies reached at least 20 victories for a third time in coach Billy Kennedy's seven seasons.
BIG PICTURE
Alabama: The Crimson Tide, once considered a lock for the NCAA Tournament, have given the selection committee plenty to mull over the next week. Coach Avery Johnson has said "the world is not coming to an end for Alabama basketball" based on the losing streak. Perhaps not, but it might be for this season concerning the postseason's primary tournament.
Texas A&M: The Aggies have been on a big-time roller-coaster ride this season in SEC play. They started league action by losing five in a row, and their conference run also includes a losing streak of three games and winning streaks of four and three games. They've won three in a row to close out the regular season, so at least they're springing into the postseason on a positive.
UP NEXT
Alabama: The Crimson Tide will compete in the SEC Tournament starting next week in St. Louis against a to-be-determined opponent.
Texas A&M: The Aggies will compete in the SEC Tournament starting next week in St. Louis against a to-be-determined opponent.