TCU QB Max Duggan on those who doubt NFL future: 'I don't worry too much about what other people think'
FORT WORTH, Texas - Max Duggan took a break from training for the NFL Draft on Monday night to become the first TCU player ever to receive the Davey O'Brien Award, given to the nation's best collegiate quarterback.
Duggan beat the odds during his college career and isn't going to start doubting himself now.
The TCU quarterback declared for the NFL Draft late in the season, and is currently training in California.
READ MORE: TCU quarterback Max Duggan declares for NFL Draft
ESPN's draft guru Mel Kiper has Duggan ranked outside his top 10 quarterbacks in this year's draft, and projects him to be a third day pick.
When asked about the people who don't think he can make it in the NFL, Duggan said he is blocking out the noise.
"I don't worry too much about what other people think, just going in there and compete, have an opportunity to go play and I think just the people that have helped support me and make them proud," Duggan said.
READ MORE: From backup QB to Heisman contender, Max Duggan is leading TCU on a historic season
The TCU QB says he is putting in the work.
"Right now I'm going through the training process, and I think it was something I was really looking forward to. To hone in and specialize a development plan for me, whether it is mechanics, footwork, mental part of the game, just speed training, mobility in the weight room," said Duggan.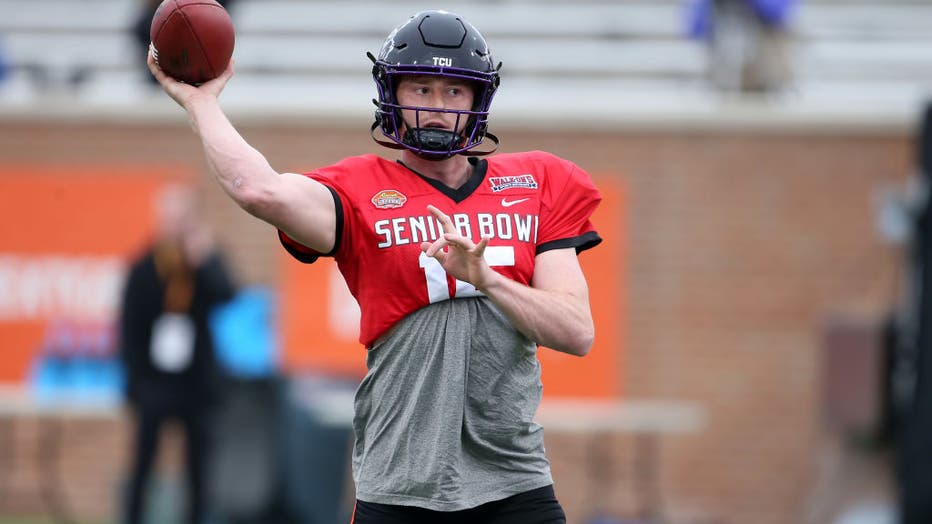 MOBILE, AL - FEBRUARY 02: American quarterback Max Duggan of TCU (15) during the Reese's Senior Bowl team practice session on February 2, 2023 at Hancock Whitney Stadium in Mobile, Alabama. (Photo by Michael Wade/Icon Sportswire via Getty Images)
No matter what happens in the NFL, the man who grew up in Council Bluffs, Iowa is grateful for his time in Fort Worth.
"I think when I came down here as a 17-year-old, I was 1,000 miles away from home, you don't know anybody, you're an out-of-state kid and I think the people of Fort Worth and TCU brought me in to be one of their own. It's a place I can call a second home," Duggan said. "I met so many incredible people here. I love it here. The city, the people, the community.  It's just something that you want when you go away."