TCU football team receives heroes' welcome as they return to campus
FORT WORTH, Texas - After a thrilling, nail-biting win over the Michigan Wolverines in the College Football Playoff the TCU Horned Frogs received the heroes' welcome they deserved as they returned to Fort Worth.
The Frogs returned to campus early Sunday night.
Hundreds of fans gathered outside of Amon G. Carter Stadium to get a glimpse and a handshake from players like Max Duggan and Quentin Johnston.
Some received signatures and a few even got hugs from the players who are headed to the big game.
The Frogs now turn their attention to preparing for the National Championship Game next Monday against Georgia.
READ MORE: Defending champion Georgia vs. Cinderella TCU for CFP title
Fans are figuring out how they're going to enjoy the big game as well.
"I wish I could go, but it's too far," said Frog fan Memphis King. "I'm going to watch the game for sure."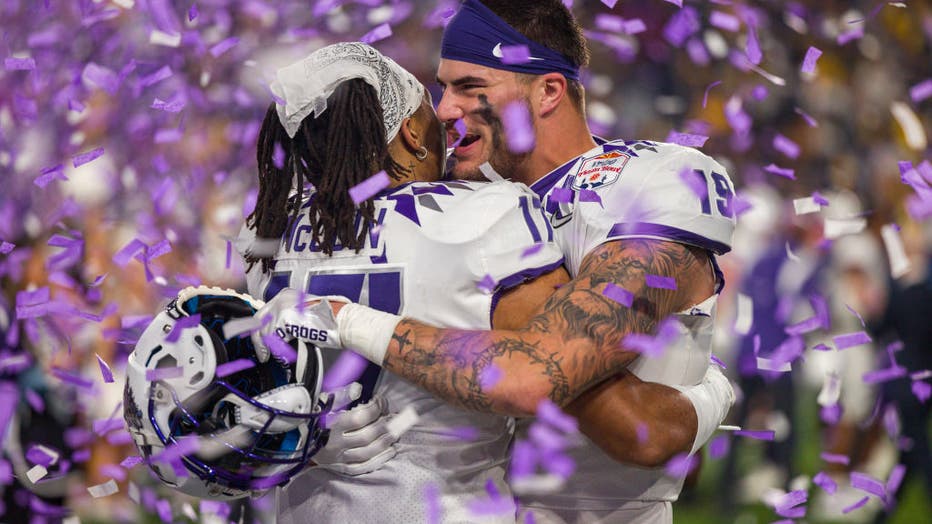 GLENDALE, AZ - DECEMBER 31: TCU Horned Frogs tight end Jared Wiley (19) hugs a teammate after the Vrbo Fiesta Bowl between the Michigan Wolverines and the TCU Horned Frogs on Saturday, December 31st, 2022 at State Farm Stadium in Glendale, AZ (Photo
"Oh my gosh this is huge, a lifetime experience for the athletes and fans and for our city," said Vanessa Hernandez.
More TCU Horned Frogs Coverage
On Saturday, TCU became the first Big 12 team to ever win a game in the College Football Playoff.
The Horned Frogs will also be the first Big 12 team to play for a national title since Texas back in 2009.
TCU are 13 point underdogs against Georgia.