TCU beats Texas Tech 5-3 at CWS on Baker's 9th-inning homer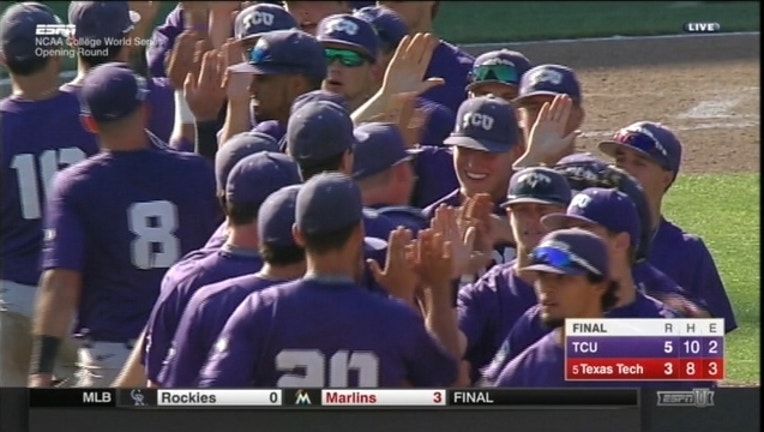 article
OMAHA, Neb. (AP) — When Luken Baker came up to bat in the ninth inning, the TCU dugout fell silent.
That changed in the amount of time it took the 6-foot-4, 265-pounder to hammer his bat into Robert Dugger's fastball and send it just inside the left-field foul pole into the seats for the go-ahead three-run homer in a 5-3 victory over Big 12 rival Texas Tech at the College World Series on Sunday.
Baker raised his right index finger as he neared first base and saw the ball go out, and teammates rushed out of the dugout for high-fives, hugs and celebratory arm bumps.
"All you hear is that ball hitting the barrel, and it sounds like a bomb going off," said relief pitcher Brian Trieglaff, who had given up the run that gave Tech the lead in the eighth. "It's amazing watching him pitch by pitch."
The Big 12's freshman of the year is only getting better as the Horned Frogs' season continues. He has hit six of his 10 homers in the last 12 games.
"In the fall, he didn't hit that many home runs," TCU coach Jim Schlossnagle said. "He never swings at bad pitches. He took his walks, and for a lot of the season he's been using the whole field to hit and he wouldn't turn on the ball like we've seen lately. His maturity, you've seen it grow throughout the year."
The Horned Frogs (48-16) trailed by a run after Hunter Hargrove's tiebreaking double in the bottom of the eighth. Dugger (6-1) issued a walk to start the ninth and, after ninth-inning defensive replacement Zach Davis made a great play to catch Cam Warner's sinking liner, gave up a single to Evan Skoug.
That set the stage for Baker.
"If Wade and Skoug don't get on, I don't get an at-bat," Baker said. "Everyone does something for the win."
Freshman closer Durbin Feltman came on and pitched a perfect ninth for his ninth save. Ryan Burnett (3-1) earned the win for getting the last out in the eighth.
TCU has won its CWS opener three years in a row. The Red Raiders (46-19) are yet to win at the CWS, having gone 0-2 in 2014 in their only other appearance.
"Today the ball didn't bounce our way," Tech coach Tim Tadlock said. "Baker made a good swing on probably a pitch that wasn't executed. But that's baseball. He's a hell of a college baseball player, that's for sure. It's a double-elimination tournament for a reason, so we'll show up Tuesday and be ready to go."
TCU tied it 1-1 on a sacrifice fly in the fourth — the first run against the Red Raiders in 20 innings — and Cam Warner homered for the third time in the NCAA Tournament and sixth time this season to put TCU up 2-1 in the fifth. But Tanner Gardner doubled in a run in the bottom half to tie it.
Trieglaff retired eight straight batters before Corey Raley singled with one out in the eighth, and after Eric Gutierrez was intentionally walked, Hargrove drilled a shot down the left-field line to bring home the go-ahead run. That ended Trieglaff's streak of 12 1/3 shutout innings over eight appearances.
The Frogs weren't done, though. Dugger (6-1), who had pitched 6 2/3 shutout innings in the NCAA Tournament, struggled with his command in the ninth, and Baker made him pay.
OH, THOSE NASTY ERRORS
Teams with three or more errors have lost 15 straight CWS games. Tech committed three Sunday, two by second baseman Michael Davis. Texas, in 2009, was the last team to win with three-plus errors.
LINEUP CHANGE
TCU started Michael Landestoy in place of the struggling Connor Wanhanen at first base. Landestoy went 1 for 3, but Wanhanen pinch hit for him in the eighth to get a righty-lefty matchup. Wanhanen grounded out and is now 5 for his last 39.
UP NEXT
TCU will play a Bracket 2 winners' game Tuesday night against the winner of Sunday night's game between Coastal Carolina and No. 1 Florida. The Red Raiders will try to stay alive against the Coastal Carolina-Florida loser on Tuesday afternoon.
___
This version corrects that Brian Trieglaff gave up Texas Tech's go-ahead run in the eighth inning, not tying run.