TCU beat Gonzaga 4-3, win from 3rd straight Super Regional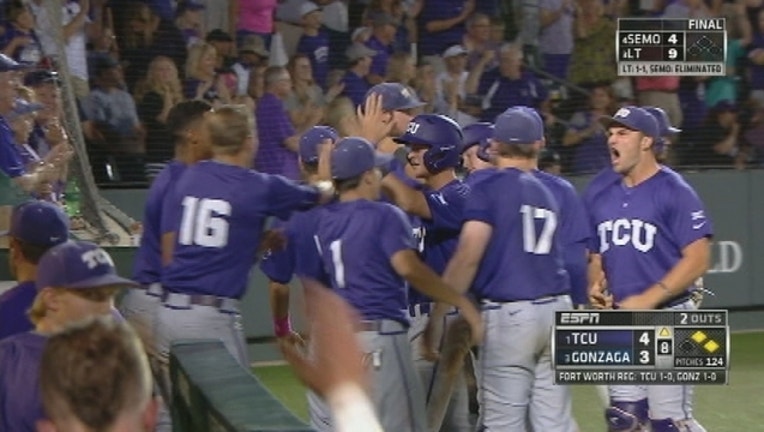 FORT WORTH, Texas (AP) — Elliott Barzilli had a two-run single in the eighth inning and TCU beat Gonzaga 4-3 on Saturday night in the Fort Worth Regional.
The Horned Frogs (44-15) are one win away from getting to an NCAA Super Regional for the third consecutive season.
TCU led 2-0 until Jeffry Bohling's three-run homer put Gonzaga up in the sixth.
The Frogs loaded the bases with two outs in the eighth when Luken Baker's checked swing became an infield single. Barzilli followed with the go-ahead hit on the 125th and final pitch thrown by Eli Morgan (10-3), who struck out eight.
Ryan Burnett (2-1) threw 1 1-3 scoreless innings in relief before Durbin Feltman's two innings for his seventh save.
Gonzaga (36-20) plays an elimination game Sunday against Arizona State, and the winner plays TCU later that night. The Sun Devils (35-22) beat Oral Roberts 4-1 earlier Saturday in an elimination game.