Stayed in school: Texas A&M's Williams stars in 2nd season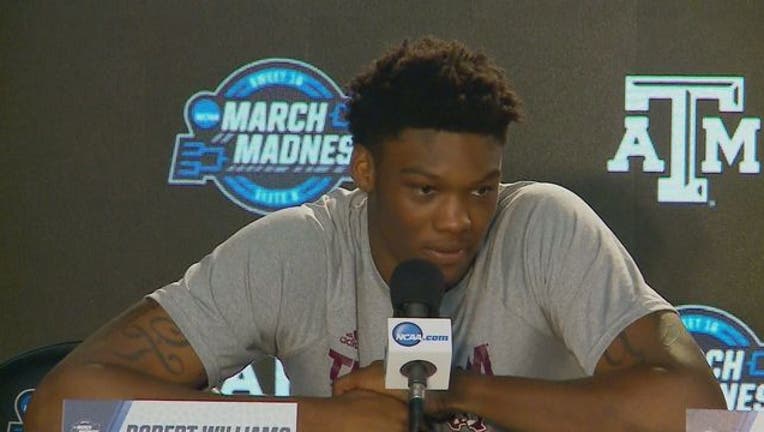 article
LOS ANGELES (AP) - Robert Williams is a living, breathing, windmill-dunking advertisement for the upside of staying in school.
The Texas A&M big man with the 7-foot-5 wingspan clearly had all the physical tools to be a solid pro prospect last spring, and he could have followed dozens of major talents by spending what would have been their sophomore collegiate seasons on an NBA bench or in the G League.
But instead of taking a chance on being a first-round pick after a solid-if-not-spectacular freshman season on a .500 A&M team, Williams took a chance on himself and returned to College Station. After a productive sophomore season of maturation and growth, another payoff arrived dramatically last week when Williams' Aggies (22-12) advanced to the Sweet Sixteen with an upset of defending national champion North Carolina.
"I talked to my family, and I just wanted to help this team and be with my teammates again," Williams said in the Staples Center locker room on Wednesday. "It's not just about me. It's about everybody around me."
Williams and the Aggies are in Los Angeles preparing for third-seeded Michigan on Thursday night. Williams has a chance to play a part in school history for Texas A&M, which has never advanced to the Elite Eight.
By staying in school with a promising bunch of teammates, including fellow 6-foot-10 big man Tyler Davis, Williams has built a substantial college career and a legacy at Texas A&M, which is in just its sixth Sweet Sixteen ever. He also gained innumerable new fans and fame with the attention of the NCAA Tournament directed onto his abilities - most notably his two jaw-dropping windmill dunks during each of the Aggies' victories last week.
"And the rebounds he's getting, you jump and put your arms out, and he's already up there above you getting the rebound," Aggies junior DJ Hogg said. "You don't even need to stretch anymore. He's got it."
Williams' vertical leap, shot-blocking defensive acumen and spectacularly long arms beg for comparisons to DeAndre Jordan, the former Texas A&M big man now starring at Staples Center for the Los Angeles Clippers.
But Williams decided not to follow Jordan to become the second one-and-done player in Texas A&M history last spring, instead deciding to spend another season in College Station. The freshman was named the SEC's defensive player of the year while scoring 11.9 points per game as a part-time starter, but the Aggies went just 16-15.
Although Williams knew he had to consider leaving, he didn't feel ready. His family took out an insurance policy against catastrophic injury, and he stayed in school.
Williams doesn't think his decision was terribly surprising to people who knew him growing up in Oil City, Louisiana, a tiny town of about 1,000 people northwest of Shreveport. Williams wasn't a widely heralded recruit to A&M, even after playing AAU ball for a Houston-based team including the Sacramento Kings' DeAaron Fox.
"I didn't expect what happened (as a freshman)," Williams said. "When I was (in high school), I had people telling me I was good enough to play in college, but I was thinking, 'What makes me so special?'"
Williams began to attract attention as a lottery-level prospect around Thanksgiving 2016 - oddly enough, just south of Los Angeles, where Williams starred in the Wooden Legacy tournament.
But Williams struggled with injuries that left him out of top shape when he returned. When healthy, he continued to impress the college hoops world - but because the Aggies weren't very good, Williams felt he had unfinished business, according to Texas A&M assistant coach Isaac Chew.
"Last year, a lot of things were a surprise for him because he surprised himself by how well he did," Chew said. "This year, he knows the things he needs to do to be effective. ... I still think even he doesn't know how good he is. At times in this tournament, he's grabbing rebounds and his head is above the rim. He's making the most of his God-given talent."
Williams played just 20 minutes against defending national champion North Carolina last weekend, but he grabbed 13 rebounds, blocked two shots and made all three of his own shots, establishing a formidable presence.
"Nobody jumps any higher and blocks more shots," North Carolina coach Roy Williams said.
The sophomore's young teammates concur with the championship-winning coach. Hogg laughingly recalled his first practice against Williams, when the freshman blocked his 3-point attempt "when he was at the free throw line.
"He could dunk like we'd never seen," Hogg added. "He's from such a small town that we didn't know that much about him. But with his defending and his energy on the court, he uses that to uplift us all. He rises to the occasion."
___
More AP college basketball: https://collegebasketball.ap.org; https://twitter.com/AP_Top25 and https://www.podcastone.com/ap-sports-special-events