Stars dominate Panthers 6-1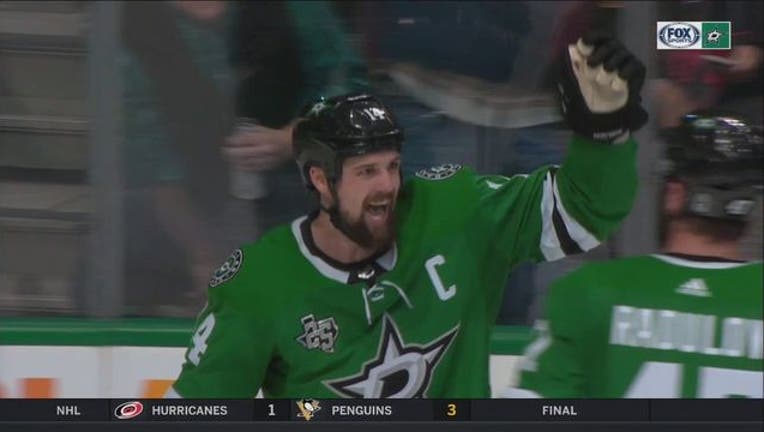 article
DALLAS (AP) - Alexander Radulov kept up his scoring touch and helped the Dallas Stars keep up their strong play.
Radulov had two goals and an assist to lead the Dallas Stars to a 6-1 victory over the Florida Panthers in a penalty-filled game on Tuesday night.
Devin Shore had a goal and an assist, and Jamie Benn, Mattias Janmark and Tyler Pitlick also scored for Dallas, which improved to 4-0-1 in its last five games. The Stars have outscored the last two opponents 13-2.
"Sometimes you don't get those bounces or whatever you don't get scoring much as you should," said Radulov, who has six goals and nine assists in the last eight games. "Now we get two games with more than five goals."
Ben Bishop finished with 33 saves for Dallas, which holds the first wild card in the Western Conference and trails St. Louis by one point for third place in the Central Division.
Aaron Ekblad scored for the Panthers, and rookie Harri Sateri had 30 saves after James Reimer was injured just 3:48 into the game. Reimer stopped all three shots he faced before leaving. He has been filling in with starting goalie Roberto Luongo out for the last 19 games.
"We don't know yet," Florida coach Bob Boughner said when asked about Reimer's status. "We're already, obviously, without our big guy, our starting goalie, and then to see your other guy down, I'm sure that affected the team a little bit on the bench."
Panthers captain Derek MacKenzie wasn't encouraged.
"James has done a great job to this point. Now I guess we've got to dig in here and with maybe some luck have (Luongo) back here."
Florida, mired in a 2-5-2 slump, lost three players during the game. In addition to Reimer, Alexander Petrovic and Micheal Haley were ejected after receiving game misconducts.
Radulov scored on the power play in the second period and on a breakaway in the third, and assisted on Benn's second-period goal. Radulov and Benn extended their points streaks to eight games. They each have 20 goals this season.
Shore scored on the power play during a first period that included four fights and 18 penalties totaling 84 minutes. Shore's goal with 4:15 remaining came after the last fight of the period. From the slot, he deflected a shot by John Klingberg past Sateri.
"This was emotion and feistiness and people angry at each other," Stars coach Ken Hitchcock said. "I think a lot of it started that they thought we hit the goalie, which we didn't. I think that started the ball rolling. You gotta get on the ride and hope nobody gets hurt.
"If we didn't wake up and didn't respond they would have pushed us out of the building."
Benn's goal came from low in the right circle at 6:43 of the second. Radulov took a pass from Jason Spezza just to the right of the goal to beat Sateri on the power play at 9:57.
The Panthers cut their deficit to 3-1 when Ekblad scored with 4:13 left in the middle period.
Janmark and Pitlick also had third-period goals for Dallas - with Pitlick's coming 20 seconds after Radulov's second goal.
NOTES: Reimer left after he fell in the goal mouth behind Stars LW Antoine Roussel. Panthers D Keith Yandle went after Roussel, and both were assessed major penalties for fighting. Barely two minutes later, Haley fought with Faksa. They each received a major penalty, and Haley was assessed another two minutes for instigating and a 10-minute misconduct. A minor penalty and two misconducts in the second period gave Haley 39 penalty minutes in the game and increased his season total to 131, most in the NHL. The penalty parade continued with simultaneous fights at 14:25: Faksa, who had only 16 PIM in his first 47 games, against Derek MacKenzie and Dallas rookie D Dillon Heatherington vs. Petrovic. Heatherington also received a game misconduct. Two more fights during the final three minutes increased the game total to 31 penalties for 138 minutes. ... In an eight-game points streak, Benn has four goals and six assists. ... Benn reached the 20-goal mark for the eighth time in his nine seasons. It's the second time Radulov has scored 20 in his five seasons.
UP NEXT
Panthers: Return home to play Washington on Thursday.
Stars: Host Toronto on Thursday in the second game of a three-game homestand.