SMU won't appeal basketball postseason ban, Brown suspension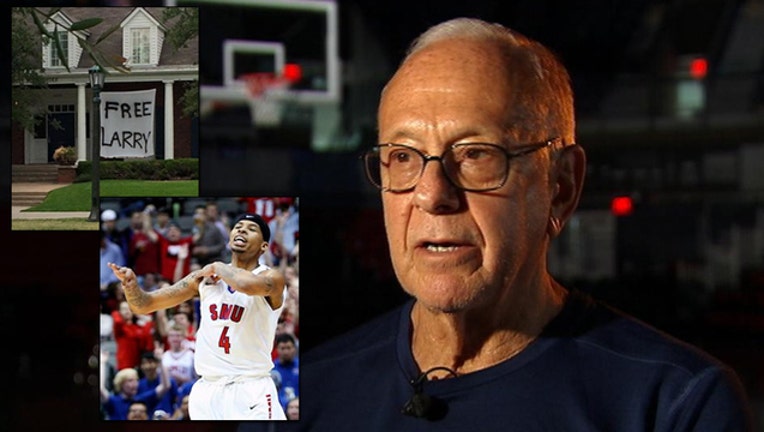 SMU officials will not appeal NCAA sanctions banning its men's basketball team from the postseason and a partial season suspension of head coach Larry Brown. But the school will appeal scholarship reductions, golf postseason ban and vacating of basketball wins from 2013-14.
The announcement came on Friday, a few days before SMU was required to file an appeal with the NCAA.
"While the decision to not appeal our post-season ban was made in the best interests of the program, I am truly disappointed for our student-athletes who are the most impacted by the penalties and who had nothing to do with the infractions," said Brown in a statement.
Sanctions were issued last week for SMU's men's basketball and golf programs due to violations found by the NCAA. Among the sanctions were a nine game suspension for Brown.
The NCAA said it found the school committed academic fraud and participated in unethical conduct when the basketball coaching staff helped guard Keith Frazier with his coursework. The NCAA also said Brown failed to control the program and then didn't report the violation when he learned about it.
Regarding men's golf, the NCAA found the former golf coach violated recruiting restrictions by contacting prospective players and their parents when he was not permitted to and offering them discounts on university merchandise and equipment.
"Violations occurred and it is time to move forward," said SMU Athletic Director Rick Hart.
SMU President R. Gerald Turner said an appeal of the basketball postseason ban would be a "lengthy process and uncertainty during this period could harm many aspects of the program."
The Mustangs ended last season in the AP Top 25, won both the American Athletic Conference regular season and tournament title and ended a two-decade plus NCAA tournament drought. They were considered heavy favorites to repeat as champions and make the NCAA tournament for a second straight year.