SMU up to No. 12 in AP poll; Baylor moves back into Top 10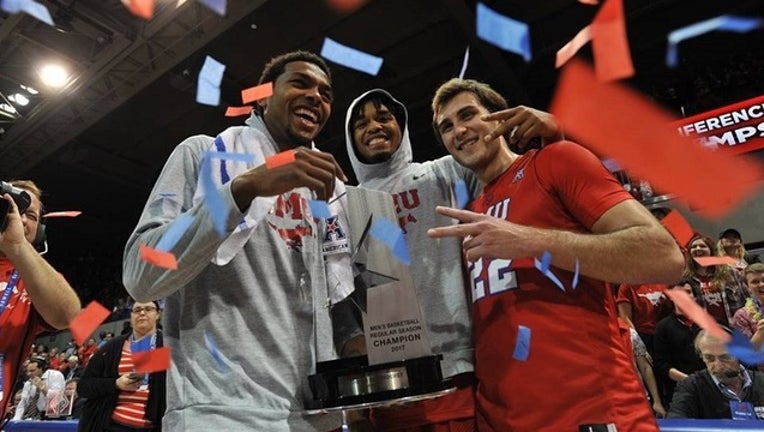 article
Kansas, Villanova, UCLA and Gonzaga held onto the top four spots in The Associated Press college basketball poll.
The Jayhawks (28-3) are No. 1 for the second week in a row. They received 59 first-place votes Monday from the 65-member national media panel.
Villanova (28-3) was No. 1 on two ballots while UCLA (28-3) got three first-place votes. Gonzaga (30-1) received the other first-place vote.
Oregon and North Carolina exchanged places at fifth and sixth while Arizona stayed seventh.
Kentucky moved up one place to eighth and was followed by Baylor and Louisville.
West Virginia was 11th followed by SMU, Purdue, Duke, Cincinnati, Florida State, Florida, Butler, Saint Mary's and Wichita State.
The last five ranked teams were Virginia, Notre Dame, Iowa State, Wisconsin and Maryland.
Maryland (24-7) returns after being out of the poll for one week. The Terrapins replace Miami (20-10), which lost to Virginia Tech and Florida State in the Hurricanes' first appearance in the poll this season.
The season's final poll will be released March 13.
Even with the loss of Miami, the Atlantic Coast Conference still leads with six ranked teams. The Big 12 is next with four, followed by the Pac-12 and Big Ten with three each.
___
                  Record  Pts Prv
 1. Kansas (59)     28-3  1619   1
 2. Villanova (2)   28-3  1517   2
 3. UCLA (3)        28-3  1487   3
 4. Gonzaga (1)     30-1  1430   4
 5. Oregon          27-4  1364   6
 6. North Carolina  26-6  1291   5
 7. Arizona         27-4  1252   7
 8. Kentucky        26-5  1182   9
 9. Baylor          25-6  1084  11
10. Louisville      24-7  1047   8
11. West Virginia   24-7   958  10
12. SMU             27-4   849  14
13. Purdue          25-6   839  16
14. Duke            23-8   667  17
15. Cincinnati      27-4   634  18
16. Florida State   24-7   631  15
17. Florida         24-7   617  12
18. Butler          23-7   538  13
19. Saint Mary's    27-3   456  20
20. Wichita State   30-4   401  21
21. Virginia        21-9   400  23
22. Notre Dame      23-8   394  19
23. Iowa State     20-10   147  24
24. Wisconsin       23-8   139  22
25. Maryland        24-7    47   --