SMU goes for win in OT, tops Navy 31-30 on 2-point pass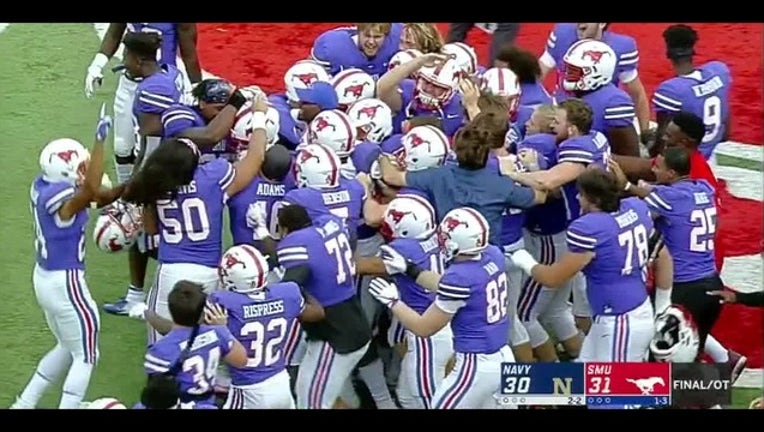 article
DALLAS (AP) - Sonny Dykes decided not to wait for his first win as coach at SMU. He had to anyway.
Hunter Thedford caught a 2-point conversion pass in the first overtime on a play that led to several minutes of discussion by officials and a review before it was held up, and the Mustangs beat Navy 31-30 on Saturday for their first win over the Midshipmen in 20 years.
After Ben Hicks threw a 4-yard touchdown pass to James Proche, Dykes chose to go for the win because he liked the play he said the coaches found at Cal, his previous stop, when they googled "good 2-point plays." ("Believe it or not," he said.)
Offensive lineman Chad Pursley went in motion from the tight end spot on the left to the slot right, and Hicks threw to Thedford over leaping linebacker Taylon Heflin in the end zone.
The officials met for several minutes as players slowly returned to the sidelines and fans chanted "S-M-U," then started booing, before referee Adam Savoie announced a review. Not too long after that, he announced the play was legal. Savoie wasn't available for a pool reporter after the game.
"I'm guessing just to make sure," Dykes said of the review. "There's some technicalities involved in the play where the tackle can't put his hand down. We've practiced it a thousand times so we were confident that they weren't going to overturn it."
Dykes said Navy covered the play better than any other team he's seen - Google or elsewhere. Midshipmen coach Ken Niumatalolo didn't quite agree.
"They kind of hid a guy out on us and we didn't see him," he said. "Those are things we have to get ready for and we weren't ready for it. So hats off to them, nice design on the play but we weren't ready for it."
Navy (2-2, 1-1 American Athletic) started overtime with a nine-play possession that ended with quarterback Garret Lewis' plunge from inside the 1-yard line.
Hicks replaced starting quarterback William Brown for the overtime possession as the Mustangs (1-3, 1-0) beat Navy for the first time since 1998, ending an eight-game losing streak in the series. It was SMU's first home win over Navy since 1966.
C.J. Williams ran 52 yards for a tying touchdown with 6:19 left in the fourth quarter and led the Midshipmen with 82 of their 349 yards rushing.
Navy had that chance to get even because Jarid Ryan returned a blocked PAT kick for a 2-point conversion from several yards deep in the end zone earlier in the fourth.
Ryan's winding run, first up the sideline and then toward the middle of the field before slowing and just getting across the goal line as he was tackled, cut Navy's deficit to 23-16.
The return from Ryan came after Myron Gailliard's 2-yard touchdown catch on fourth down. That score was set up by a fumble by Lewis that SMU recovered at the 2.
Reggie Roberson Jr. returned a kickoff 98 yards for a touchdown and caught a 20-yard scoring pass for the Mustangs. Brown threw for 150 yards and two touchdowns.
Braeden West rushed for 145 yards, his first 100-yard game for SMU since the last of six late in the 2016 season.
THE TAKEAWAY
Navy: The Midshipmen had a 50-yard touchdown called back by a chop block penalty on their first pass of the game late in the second quarter, preserving SMU's 10-7 lead. They were fortunate the Mustangs didn't add to that lead when Kevin Robledo's 47-yard field goal attempt hit the right upright on the final play of the first half. SMU got that chance because of a fumble by Nelson Smith with 3 seconds left.
SMU: The Mustangs gave away points with a failed fourth-and-4 try from the Navy 11 when trailing 7-3 in the second quarter. They would have done it again with a failed fourth-and-1 from the 6 leading 17-14 in the fourth, but Lewis' fumble gave them another chance. SMU converted the next fourth down on Gailliard's TD.
ONE COMPLETION, ONE SCORE
Lewis threw a 25-yard touchdown pass to Mychal Cooper, who was wide open inside the 5, to put Navy up 14-10 in the third quarter. It was only completion for the Midshipmen in their triple-option offense. Roberson answered immediately by running untouched up the middle of the field.
COMMANDER IN CHIEF
Navy players met with a former commander in chief - former President George W. Bush - before the game. Bush then handled the coin toss. Bush lives not far from the SMU campus, where his presidential library is located. He and former first lady Laura Bush frequently attend sporting events.
UP NEXT
Navy: After an open week, Navy visits service academy rival Air Force on Oct. 6.
SMU: Houston Baptist at home next Saturday.
___
More AP college football: https://apnews.com/tag/Collegefootball and https://twitter.com/AP_Top25