SMU basketball 2015-16 AAC schedule has Mustangs opening, closing on road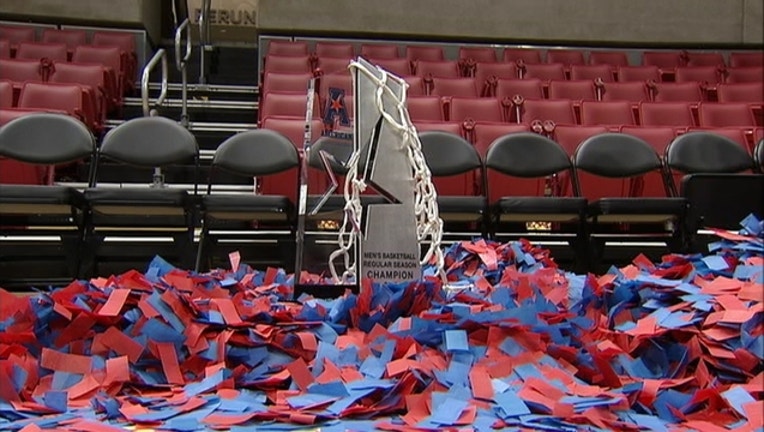 SMU basketball's conference schedule for 2015-16 is highlighted by UCONN, Cincinnati and Memphis visiting Moody Coliseum.
The entire American Athletic Conference schedule was released on Tuesday and has SMU opening and closing its conference slate on the road.
SMU starts AAC play at Tulsa on Dec. 29, who the Mustangs beat in the last game of the 2014-15 regular season to win an outright conference title.
SMU's final regular season home game will be against UCONN, who the Mustangs haven't lost to at home since reopening Moody Coliseum two years ago.
SMU's regular season finale will be a national TV game on CBS at Cincinnati, where the Mustangs have struggled to win.
There are high expectations for the Mustangs in 2015-16 even with an unresolved NCAA investigation.
The program is currently awaiting potential sanctions from the NCAA regarding alleged academic improprieties that may have involved SMU staff assisting Frazier with coursework. SMU went before the committee of infractions in June and expects to have any potential discipline handed down before the season starts.
SMU ended last season in the AP Top 25, won both the American Athletic Conference regular season and tournament title and ended a two-decade plus NCAA tournament drought.
The Mustangs are considered a favorite to repeat as conference champions by college basketball experts since it returns star players Nic Moore and Markus Kennedy and adds in transfers from Duke and Texas Tech.
SMU basketball conference schedule 2015-16
12/29/15              at Tulsa (ESPN2)
01/02/16              vs. USF (ESPNews)
01/07/16              vs. Cincinnati (ESPN/ESPN2)
01/10/16              vs. UCF (ESPNU)
01/13/16              at East Carolina (ESPNews)
01/17/16              at Tulane (ESPN3)
01/19/16              vs. Houston (ESPNU)
01/23/16              at Temple (ESPNU)
01/30/16              vs. Memphis (ESPNU)
02/01/16              at Houston (CBSSN)
02/07/16              at USF (CBSSN)
02/10/16              vs. Tulsa (CBSSN)
02/18/16              at Connecticut (ESPN/ESPN2)
02/21/16              vs. East Carolina (ESPNews)
02/25/16              at Memphis (ESPN/ESPN2)
02/28/16              vs. Tulane (CBSSN)
03/03/16              vs. Connecticut (ESPN/ESPN2)
03/06/16              at Cincinnati (CBS)