Smith highlight helps Mavs top playoff-bound Blazers 105-99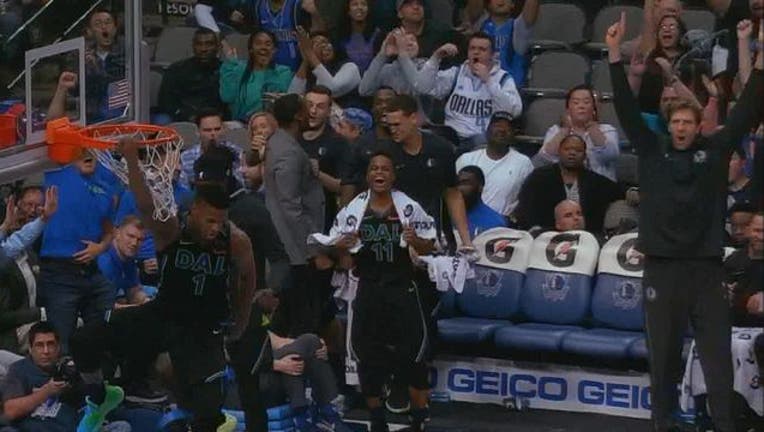 article
DALLAS (AP) - Dennis Smith Jr. scored 18 points, including a highlight-reel dunk to help keep the lottery-bound Dallas Mavericks ahead in a 115-109 win over Portland on Tuesday night, delaying for now the Trail Blazers' hopes of clinching home-court advantage in the first round of the playoffs.
A hodge-podge lineup kept the Mavericks in front in the fourth quarter, with Maxi Kleber giving them their biggest lead at 104-94 on a 3-pointer with 3:13 remaining.
But Smith, the rookie first-round pick Dallas hopes to build its future around, was back on the floor with the Blazers trailing by six when he beat Damian Lillard to a loose ball , poked it past the star Portland guard, ran it down and bounced it one more time before leaping for the slam.
Smith, who had another layup to push the lead back to seven in the final minute, also led the Mavericks with eight assists and tied Kleber for the team high in rebounds with eight. Kleber scored nine points.
Lillard scored 29 for the Blazers, who could have clinched home court for the first time in five straight playoff appearances under coach Terry Stotts with a win and losses by Oklahoma City and Utah. Portland qualified for the playoffs with Sunday's win over Memphis.
Harrison Barnes, J.J. Barea and Yogi Ferrell scored 15 apiece as the Mavericks avoided getting swept by Portland in a season series for the first time since 1998-99.
CJ McCollum scored 16, but he and Lillard combined to go 2 of 15 from 3-point range as the Blazers shot 25 percent (10 of 40) from behind the arc. Jusuf Nurkic had 15 points and 13 rebounds.
TIP-INS
Trail Blazers: G Shabazz Napier, the Final Four most outstanding player when Connecticut won the NCAA title at the home of the Dallas Cowboys four years ago, was 4 of 4 from 3 and had 13 points. ... Lillard has scored at least 25 points in nine of his past 10 games against Dallas. ... Nurkic had his team-leading 24th double-double of the season.
Mavericks: Dirk Nowitzki missed his first five 3-point tries but finished 3 of 10 and had 14 points. ... Dwight Powell was the sixth player in double figures with 12 points. ... Dallas went without a turnover in the second and third quarters and finished with seven.
NO MORE NOEL
Dallas center Nerlens Noel was suspended for the final five games of the season for violating the NBA's anti-drug program. The suspension ended a lost season when Noel was hoping to showcase himself after failed negotiations in the offseason ended with him taking the team's qualifying offer of just $4.1 million for one season as a restricted free agent. The Mavericks acquired him at the trading deadline last season.
Noel appeared to fall out of favor with coach Rick Carlisle early this season before the announcement that he was having surgery for a torn ligament in his left thumb. But Carlisle praised him before the game, saying his respect for Noel went up when the 23-year-old came to his coach after a game in Sacramento last week to tell him about the looming suspension.
"He was contrite," Carlisle said. "What I can tell you without a shadow of a doubt is this guy has been a terrific guy to be around."
Noel played just 30 games, averaging 4.4 points and 5.6 rebounds in 16 minutes in his fourth season. He will be an unrestricted free agent this summer.
___
UP NEXT
Trail Blazers: At NBA-leading Houston on Thursday.
Mavericks: Start of three-game road trip Wednesday at Orlando.
___
More AP NBA: https://apnews.com/tag/NBAbasketball