Shore starts big second period to lift Stars over Coyotes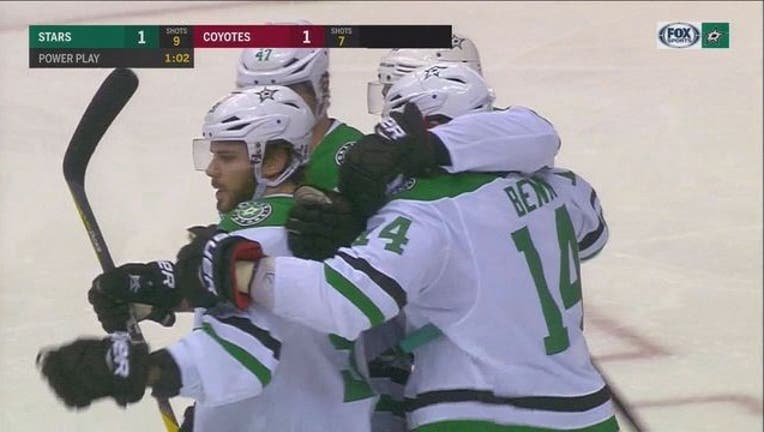 GLENDALE, Ariz. (AP) - Devin Shore had a goal and an assist during Dallas' three-goal second period, and the Stars beat the Arizona Coyotes 4-1 on Thursday night.
The Stars extended their winning streak against the Coyotes to seven. Arizona has lost seven of nine overall, though this was its first game in a week thanks to the All-Star break.
Kari Lehtonen stopped 17 shots and improved to 6-2 in his last eight starts, all on the road.
Shore tied it at 1 in an atypical way when he lifted his stick to bat in the puck after Jason Spezza chipped it over the goal from behind the net. That was at the three-minute mark of the second.
Shore set up the second goal on a power play for Dallas at 5:21. He collected a rebound and centered to Tyler Seguin, whose shot got by Scott Wedgewood.
Seguin got his team-leading 24th goal, and John Klingberg picked up his 43rd assist to lead the Stars.
The Stars had a potential third goal disallowed when the Coyotes challenged for offside, and Jamie Benn's power-play goal was reversed. But Mattias Janmark made it 3-1 at 6:36 of the second when he scored on a side-angle shot.
All of the goals came against backup Wedgewood, with Antti Raanta removed from the lineup shortly before the game. Wedgewood had 21 saves.
Wedgewood kept the Stars from scoring a fourth goal in the second, when he smothered Seguin's breakaway attempt with 21.4 seconds to go.
Esa Lindell's empty-net goal with 1:36 to play completed the scoring.
Kevin Connauton, a defenseman whose first goal of the season came on Oct. 10, scored his second at 4:06 of the first period to give the Coyotes an early lead. His wrist shot beat Lehtonen with help from teammate Christian Fischer limiting Lehtonen's view of the puck on Arizona's second shot on goal of the game.
The Coyotes have 12 first-period goals in their last eight games.
The Stars served six minutes of penalties in the period, four to defenseman Julius Honka for a high stick to the face of Arizona's Brad Richardson. But the Coyotes couldn't capitalize on the power play and went 0 for 6 for the game.
NOTES: The Coyotes replaced Raanta with Wedgwood not long before puck drop but didn't have an explanation for the move before and during the game. Raanta served as backup but never appeared on the bench. ... D Jason Demers (upper body injury) did not play and is day-to-day. ... Coyotes broadcaster Bob Heethuis called his 1,000th career game. ... Stars F Antoine Roussel missed his second straight game with a nasal infection. C Martin Hanzal, a former longtime Coyote, was also scratched and missed his fourth straight game with a muscle strain.
UP NEXT
Stars: Host Minnesota on Saturday.
Coyotes: At Los Angeles Saturday.
___
More AP hockey: https://apnews.com/tag/NHLhockey