Shaka Smart's 3rd year at Texas a season of struggles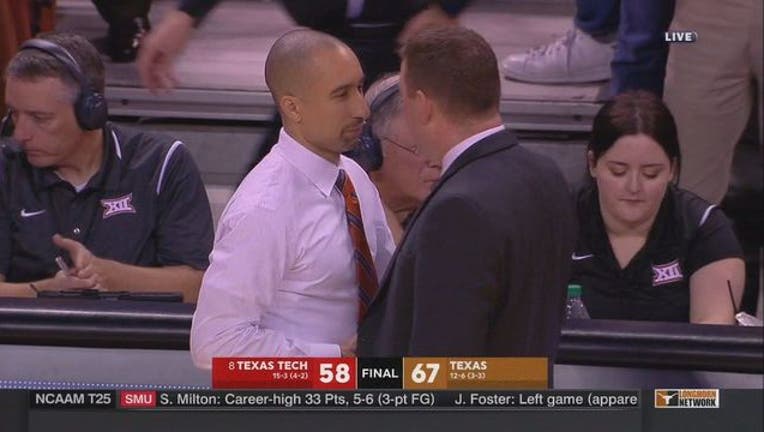 AUSTIN, Texas (AP) - Texas coach Shaka Smart is nearing the end of his third season with a .500 overall record, the team hovering near the bottom of the Big 12 and any NCAA Tournament hopes on the verge of collapse.
Even after three straight losses, the latest a 74-73 double-overtime defeat against Baylor, Smart isn't ready to declare his team in a free fall.
"We obviously need to find a way to win our next game," Smart said after losing to Baylor on Monday night. "You guys (the media), you'll do your job and label it whatever you want to label it.
"As a coach, you have to make sure as a team you do everything you can to win. We were one play away. But when it doesn't go your way, you've got to immediately analyze why and where you need to get better. So that's what we'll do."
Texas (15-11, 5-8) lured Smart away from Virginia Commonwealth in 2014 after firing Rick Barnes, who had made the NCAA Tournament in 16 of his 17 seasons in Austin. Smart led Texas to the tournament with a 20-win debut season, but the Longhorns made a quick exit after losing their first game on a half-court miracle shot. It was a blow, but the program looked to be on the rise.
Yet Monday's loss left Smart at 46-46 overall at Texas and 20-29 in the Big 12. Baylor has beaten Texas six straight times.
"This league is very unforgiving," Smart said. "No one is going to feel sorry for you."
That's especially true now that Smart has a lineup entirely recruited by him, but one short on depth. Against Baylor, Texas used just seven players and the five starters all played at least 43 minutes. The Longhorns rank last in the Big 12 in scoring, assists, 3-point shooting and free-throw percentage. They're near the bottom in rebounding on either end of the court.
The bright spot has been forward Mo Bamba. He's one of the best freshmen in the nation this season with 13 double-doubles and he ranks second nationally in blocks with nearly five per game. But Bamba's presence only amplifies the disappointment so far. Long and athletic, Bamba was one of the most coveted recruits in the country and is projected to be one of the top picks in the NBA draft this summer.
Bamba is similar to the player he replaced, Jarrett Allen, who left Texas after his freshman season and was selected No. 22 overall by the Brooklyn Nets.
Smart's players didn't want to talk to the media after losing to Baylor on Monday night. Smart said they were in a meeting "hashing some things out."
They have certainly carried more emotional weight than just wins and losses this season. In January, sophomore guard Andrew Jones was diagnosed with leukemia and has been away from the team while receiving treatment at a Houston hospital.
Texas rallied behind Jones to earn three home wins over ranked opponents, and the entire league has extended gestures of support. But Texas hasn't put together a season-defining run, unless that three-game losing streak turns out to be it.
There have been no real rumblings that Smart's job is in jeopardy. He's under contract though the 2022-23 season with at least $16 million guaranteed. New athletic director Chris Del Conte has only been on the job two months.
There is time for a late turnaround this season. Texas looked like a safe bet for the NCAA Tournament when they beat No. 23 Oklahoma in front of a packed house two weeks ago. The rematch is Saturday in Norman, Oklahoma. And Texas will host No. 20 West Virginia, which pummeled the Longhorns by 35 in late January, in the season finale.
With five games left, Texas could still get to .500 or better in the Big 12 and make a run for the postseason.
"I think the team can still get better," Smart said. "We want to win, and we want to win bad ... It's a real test of our guys, our team, of our character, of our culture. We're going to see what we're about."
___
More AP college basketball: https://collegebasketball.ap.org and https://twitter.com/AP_Top25