Sexton's buzzer beater lifts Alabama over Texas A&M, 71-70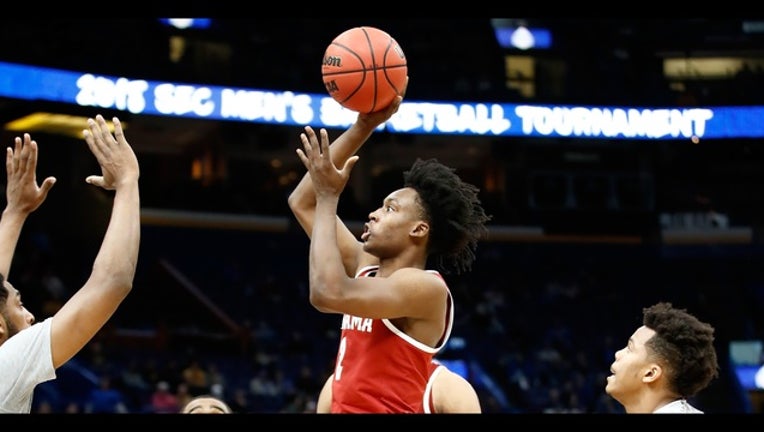 ST. LOUIS (AP) - Collin Sexton drove the length of the court in the final seconds and hit a floater at the buzzer to give Alabama a 71-70 win over Texas A&M in the of the Southeastern Conference Tournament on Thursday.
The win snaps a five-game losing streak for the ninth-seeded Crimson Tide (18-14), and it provides a much-needed boost for school's case for a bid to the NCAA Tournament - which it is trying to reach for the first time since 2012.
Sexton finished with 27 points, none bigger than his final shot. Alabama led by as many as 12 points in the second half, but the Aggies (20-12) rallied and went up 70-69 after a 3-pointer by T.J. Starks with 4.4 seconds remaining.
That's when Sexton took the inbounds pass and raced up the court for his winning shot. Dazon Ingram scored 13 points for the Crimson Tide, and Donta Hall added 11.
Starks matched his career high with 23 points in the loss for Texas A&M, and Admon Gilder had 15.
Texas A&M had won three in a row entering the game, including a 68-66 victory over the Crimson Tide six days ago. The No. 8 seed Aggies led by as many as seven points early in the first half, but Alabama surged ahead in to take a 35-28 halftime lead - only to need Sexton's last-second shot to hold on for the win.
BIG PICTURE
Alabama: The Crimson Tide entered the game 56th in the NCAA's RPI ratings despite its late-season woes, thanks in large part to earlier victories this season over ranked opponents such as Auburn, Oklahoma, Florida and Tennessee. Alabama also has a win over a then-No. 5 Texas A&M on Dec. 30, and it will have another opportunity to impress the selection committee when it faces top-seeded Auburn on Friday. The Crimson Tide reached the tournament semifinals with a pair of victories last season.
Texas A&M: Even with the loss, the Aggies appear likely to reach the NCAA Tournament for a second time in three seasons after beginning the day 25th in RPI. Starks previously scored 23 points in a game at Auburn on Feb. 7. The freshman guard was 8 of 17 from the field on Thursday and appeared to have won the game with his late 3-pointer, only to watch as Sexton answered on the other end.
UP NEXT
Alabama faces Auburn in the quarterfinals on Friday.
The Aggies wait to find out their postseason fate.
___
More AP college basketball: http://collegebasketball.ap.org and http://www.twitter.com/AP_Top25
___
Follow Kurt Voigt on Twitter at @Kurt_Voigt_AP