Searching for character and calmness, Baylor led to Grobe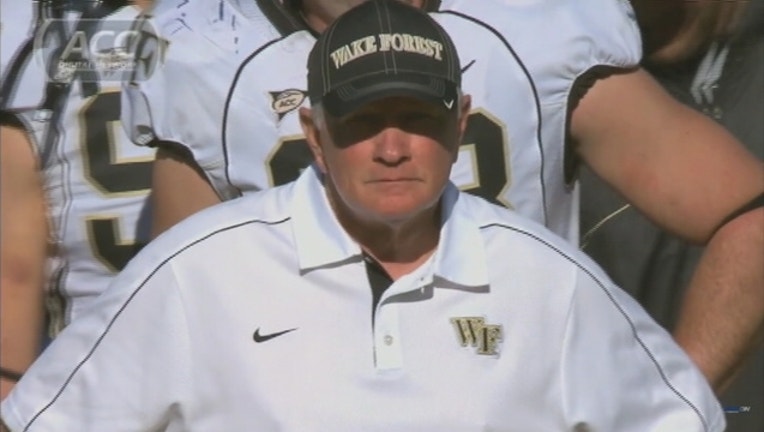 article
No one has coached more Baylor football games than Grant Teaff, so when it came time to find someone who could lead the Bears through times of trouble the program's 82-year-old patron was consulted.
Knowing Baylor needed not only a good football coach but a man with unimpeachable character, Teaff made one recommendation: Jim Grobe.
"He embodies the characteristics most of us aspire to," Teaff said Tuesday in a telephone interview.
Grobe, 64, was named Baylor's acting coach on Monday and he will be introduced at a news conference Friday. According to those who have played and worked for Grobe, he does not believe in winning at all cost and his calmness should help steady a turbulent team.
"The awesome thing about him is I think his priorities are in check and properly aligned so that there's not false motivation to do something crooked, because he's just not wired that way," said Air Force assistant coach Steed Lobotzke, who worked for Grobe at Ohio University and Wake Forest for 17 years.
Grobe is taking over for Art Briles, whose ouster was part of the fallout from a scandal involving insufficient and inappropriate handling of sexual misconduct allegations. University President Kenneth Starr was also demoted last week when the board of regents moved to fire Briles.
Teaff advised former athletic director Ian McCaw through a hasty coaching search last weekend. McCaw, who had been placed on probation by the school, announced his resignation about an hour after Grobe was hired.
Teaff said the plan was to find an experienced head coach not currently with a team who could work with the remaining staff.
"Of those that have been college head coaches, Jim was my clear choice," Teaff said.
Baylor has made no official statement about the status of any of the assistant coaches. Briles' son, Kendal, is Baylor's offensive coordinator, and his son-in-law, Jeff Lebby, is running backs coach.
Grobe had been out of coaching for two years after a 19-year run leading Ohio and Wake Forest, two programs with little in the way of winning football tradition. Relative to their history, Grobe's teams did well, going 110-115.
More important to Baylor right now, Grobe comes to Waco, Texas, with a reputation for running clean programs.
Grobe and Teaff worked closely during Grobe's time as chairman of the ethics committee of the American Football Coaches Association, where Teaff was the longtime executive director.
"You don't hold that position unless you have been vetted top to bottom and side to side," Teaff said. "You sit in judgment of others."
Grobe was born in Huntington, West Virginia, and played at Ferrum College in western Virginia and at the University of Virginia.
His coaching career took him to his hometown university of Marshall and then to the Air Force Academy, where he worked for Hall of Fame coach Fisher DeBerry.
Lobotzke, an Air Force graduate, said it was obvious Grobe's time at the academy influenced his coaching style.
"I think there's two types of coaches out there in college football. There's CEOs and there's father figures," Lobotzke said. "The father figures are the Bobby Bowdens, the Joe Paternos, the Fisher DeBerrys and the Jim Grobes. And those are the guys that I think players really like to play for because they know that they're part of a big family rather than an organization."
Grobe is going to have to win over some players who have made it clear they felt betrayed by Baylor.
Star wide receiver KD Cannon posted on Instagram he was considering transferring and several incoming freshman have said they will explore being released from their national letters of intent. Recruits have decommitted.
Fresno State linebackers coach Nick Toth was a player and graduate assistant for Grobe at Ohio. Being able to earn the trust of his players was maybe Grobe's greatest attribute, Toth said.
"The thing about coach Grobe that made you go so hard for him was just that he was very genuine. His interest was constant. He wasn't just an end-of-the-year meeting or an after-the-season wrap-up meeting," Toth said. "He was really hard on us. He was very Air Force-straight-line, blue collar and it was that way every day. As a player you loved it because you knew what you were going to get every day."
In a profession that generally attracts people with no shortage of ego, Grobe has succeeded with humility.
"The guy was the most humble human being in success and the most positive human being during failure that I've been around," Toth said. "We grow these young people to be these big, bad nasty dudes, to think that they're always the guy, but his humbleness really tempered that."
___
Follow Ralph D. Russo at www.Twitter.com/ralphDrussoAP