Russell, Linwood lead No. 5 Baylor past Texas Tech 63-35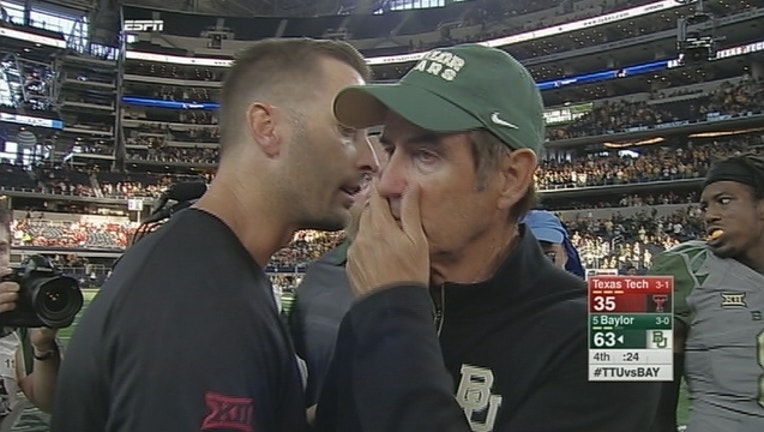 ARLINGTON, Texas (AP) — Fifth-ranked Baylor beat up Texas Tech with a balanced attack.
"We know we can throw the football," Bears coach Art Briles said. "If you can run the football, it kind of hurts people in the heart."
Seth Russell passed for 286 yards and four touchdowns and ran for two more scores, Shock Linwood rushed for a career-high 221 yards and two touchdowns and No. Baylor began its bid for a third consecutive Big 12 championship with a 63-35 victory Saturday.
Baylor (4-0, 1-0) entered with the FBS' top offense in scoring (64.0 points per game), total offense (767.0 yards per game) and rushing yards (379.7 per game). The Bears gained 680 yards, 368 rushing.
"You think Baylor, you think throwing the ball," Russell said. "Being able to run the ball strong, it definitely opened up the pass game because that's below the box and basically it's one-on-one with, I feel like, the best receivers in the nation. It puts a lot of stress on the defense."
Corey Coleman caught touchdown passes of 24, 16 and 16 yards.
Russell was 15 for 23 with one interception.
The Red Raiders (3-2, 0-2) dropped their second straight game after sweeping their nonconference opponents, They lost 55-52 to No. 4 TCU last week.
Texas Tech's Patrick Mahomes was 32 of 50 for 415 yards, three touchdowns and two interceptions. Mahomes hurt his left knee last week in the first quarter against TCU, was listed as day to day during the week, but started and played into the fourth quarter.
Baylor went into the game as the only FBS school ranked in the top 10 in both rushing and passing offense.
The Red Raiders entered ranked fifth in total offense (594.5 yards per game), third in scoring (53.8 points per game) but 122nd in total defense (556.3 yards per game).
Linwood gained the fourth-most rushing yards in school history. His previous high was 187 against Texas Tech in 2013.
Linwood scored on runs of 79 and 8 yards, both in the first half. The longer score came on the Bears' third play from scrimmage, when he broke through the middle of the line, avoided one hand tackle and raced down the right sideline.
"You could probably drive a semi-truck through it," Russell said about the hole.
"I just hit the seam and put on the burners," Linwood said. "It was clear as day."
Baylor gained 333 yards in the first quarter, 499 in the half and scored touchdowns on its first five possessions to build a 49-21 halftime lead.
The Bears converted two of Texas Tech's four turnovers into touchdowns.
"If you get two or three stops, it flips the game," Briles said.
The Bears are 4-0 for the third consecutive season for the first time since 1915-17. This 28-point win was their smallest margin of victory yet.
Baylor has won five straight against Texas Tech, all at AT&T Stadium, averaging 58.4 points. The win gives the Bears a 37-36-1 edge in the series, which began in 1929.
The Red Raiders came off the TCU loss, in which the Horned Frogs scored the winning touchdown on a tipped pass with 23 seconds to play. They faced top-5 opponents in consecutive weeks for the first time.
"I don't think we gave ourselves an opportunity to win the game like we did the first four," Texas Tech coach Kliff Kingsbury said. "Pat played fairly well. We got behind and got out of our game plan. He hung in there on some stuff, not being 100 percent."