Romo says farewell to fans, but stays with Cowboys for now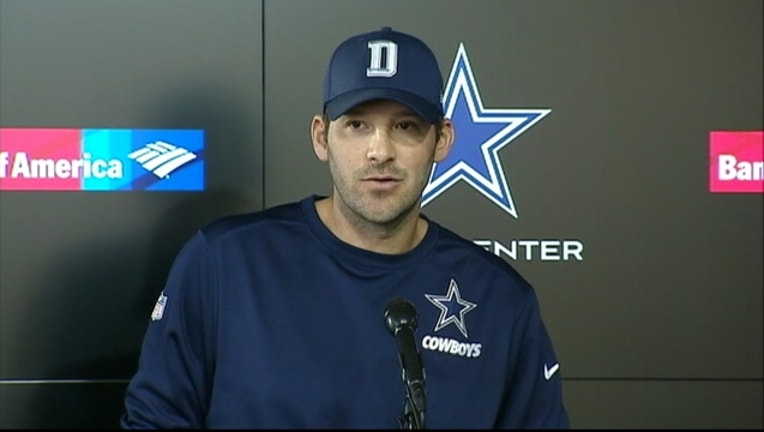 article
DALLAS (AP) - Tony Romo remained with the Cowboys as the first day of free agency wrapped up Thursday, although the quarterback essentially said goodbye to Dallas fans in a video posted on Twitter.
Romo wasn't released when the NFL opened for business after being told he would be, with reports surfacing hours before players could officially join other teams that the Cowboys were seeking a trade to try to get something for their former 10-year starter.
Not long after news broke that Houston had traded Brock Osweiler to Cleveland, which led to instant speculation that the Texans would target Romo, Dallas' franchise leader in passing yards and touchdowns posted the video from the workout room in his house.
"I just wanted to come to tell you it's been a crazy 48 hours here," Romo said as Bob Dylan's "The Times They Are A-Changin'" played in the background. "Me and my family felt the outpouring of support and love from all of you.
"It's been overwhelming and it doesn't go unnoticed. I want to say thank you and we have a lot to think about going forward, but we'll see what happens."
Romo, who turns 37 next month and missed most of the past two seasons with injuries, lost the starting job to rookie Dak Prescott while recovering from a back injury sustained in the preseason.
The four-time Pro Bowler conceded the job to Prescott in November when the Cowboys were on a franchise-record 11-game winning streak, Romo played just one series in a meaningless regular-season finale at Philadelphia, throwing a 3-yard touchdown pass to Terrance Williams.
The Cowboys were the top seed in the NFC at 13-3, but lost to Green Bay in the divisional round despite a fourth-quarter rally that cemented Prescott as the quarterback of the present and future.
Osweiler's departure leaves fourth-year pro Tom Savage atop the depth chart in Houston. He's followed by Brandon Weeden, one of the backups who couldn't get the job done in Dallas in 2015 when Romo missed 12 games with a twice-broken left collarbone and the Cowboys finished 4-12.
If the Cowboys trade Romo, they take the full $19.6 million salary cap hit this season, but won't have any dead money next year. With a release, they can spread the cap hit just about in half over two seasons.
Romo was 78-49 as the starter in Dallas, but couldn't match the playoff success of Hall of Famers and multiple Super Bowl winners Roger Staubach and Troy Aikman. He was 2-4 in the postseason, winless on the road and never got the Cowboys to the NFC championship game.
The Cowboys have already started looking for another backup, hosting 15-year veteran Josh McCown on a free-agent visit Wednesday.
Vice president of personnel Stephen Jones has said Dallas is interested in re-signing Kellen Moore, who was Romo's backup when he broke his right ankle in a training camp practice and missed the season. Prescott was the No. 3 quarterback before Moore's injury.
___
For more NFL coverage: http://www.pro32.ap.org and http://www.twitter.com/AP_NFL