Romo injury makes rookie Prescott sudden starter for Cowboys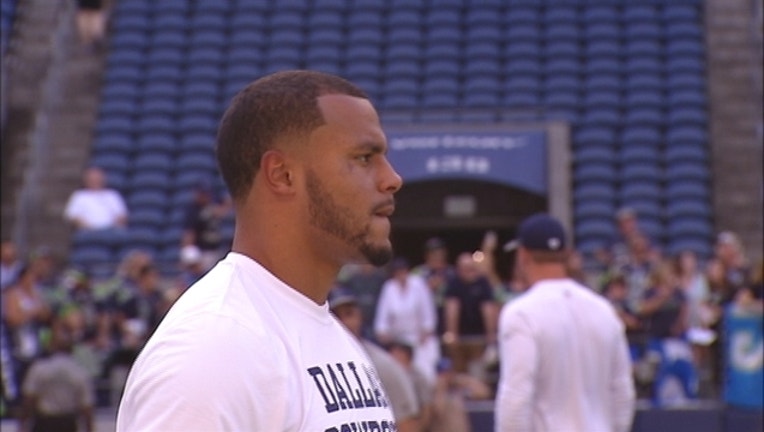 article
FRISCO, Texas (AP) — Dak Prescott grew up rooting for the Dallas Cowboys in Louisiana. He suddenly finds himself in line to start their opener as a rookie quarterback with Tony Romo sidelined by yet another back injury.
Receiver Brice Butler believes the fourth-round pick out of Mississippi State pictured this years ago.
"He ends up getting drafted here. Now he's the starting quarterback," Butler said Sunday. "I don't know if he thought it was going to happen this soon. But I'm pretty sure when he got here, he was like, I'm going to be the future of this franchise.
"He's in a situation now where he's the starter and basically that comment I just said is going to depend on how he plays. And I think he's ready for it."
The 23-year-old Prescott was the No. 3 quarterback for the Cowboys going into training camp before backup Kellen Moore broke his right ankle in practice.
Prescott was impressive enough in the first two preseason games to make owner and general manager Jerry Jones comfortable with him as Romo's backup, rather than bringing in a veteran.
After Romo broke a bone in his back on the third play of the third preseason game at Seattle, Jones is ready to roll with Prescott. Assuming the Cowboys do grab a veteran, it figures to be a backup for now. The current No. 2 is Jameill Showers, a second-year player who hasn't appeared in a regular-season game.
"I don't know if this stuff will ever hit me," said Prescott, set to be the first rookie quarterback to start the opener for Dallas since Quincy Carter 15 years ago. "I feel like I belong here. This is where I'm supposed to be. I just come in every day with the right attitude."
The Cowboys haven't said how long Romo will be out following his fourth back injury in less than four years, but it's likely to be the opener at the very least. Jones and his son, executive vice president of personnel Stephen Jones, have said they are comfortable giving Prescott a shot as the starter.
The next question is whether Prescott plays in the preseason finale against Houston on Thursday night. Starters generally sit out that game and turn their focus to the regular season. The Cowboys open Sept. 11 at home against the New York Giants.
Coach Jason Garrett wouldn't say whether Prescott will be held out against the Texans. Dallas has just the two quarterbacks on the roster, not counting Romo.
"I don't know if a number of snaps makes a difference if I'm ready or not," said Prescott, who is 39 of 50 passing for 454 yards with five touchdowns and no interceptions in three preseason games. "I'm going to be ready. Practice is going to get me ready. We are going to game plan the right way. And I'm going to be focused."
Dallas went 1-11 without Romo last season when he was twice sidelined by a broken left collarbone, and the Cowboys slumped to 4-12 a year after winning the NFC East at 12-4. Because of that, Jerry Jones opened training camp by declaring Dallas would no longer pin its hopes on star players returning from injuries.
The Cowboys might not have envisioned this severe a test this soon.
"The mentality is different," said receiver Dez Bryant, who missed seven games last season because of a broken foot. "It ain't even just with the backup quarterback. It's like with all the players. It's just different strategy, believing in one another. Like I said, keeping each other lifted and building real chemistry."
Prescott, who also has two rushing touchdowns, led a scoring drive in his first full possession against the Seahawks after Romo's injury. He took the Cowboys to a field goal in the final two minutes of the first half. He has looked comfortable running the offense and made strong throws down the field.
The eighth quarterback taken in the draft with the 135th overall pick, Prescott is likely to be the first of those to start in the regular season.
"How do you create a name for yourself without stepping up on those situations and becoming that guy?" cornerback Brandon Carr asked. "Dak has been in the fire early and often. He has done well. It's going to take all guys to help each other out."
___
Online:
AP NFL websites: http://pro32.ap.org and http://twitter.com/AP_NFL
___
Follow Schuyler Dixon on Twitter at https://twitter.com/apschuyler