Romo feels young again coming off twice-broken collarbone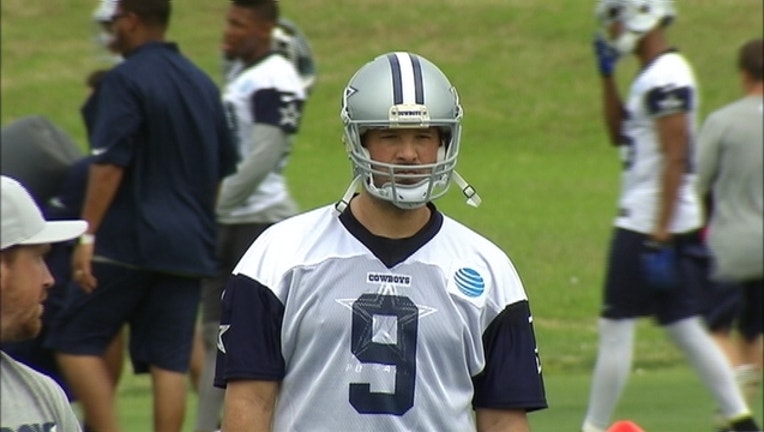 article
IRVING, Texas (AP) — Tony Romo isn't sure how to define young.
The Dallas quarterback just knows he feels more like a 30-year-old than someone on the downhill side of 40 coming off a twice-broken left collarbone and now a couple of years removed from a pair of back surgeries that weren't far apart.
Plus, his teammates like to kid him about the whole age thing with Cowboys owner Jerry Jones on the record he thinks Romo has four or five more good years in him.
"With the way that it's going right now, the running joke is that I'm the only one in here getting younger each year," Romo said Wednesday, the second day of offseason practice. "So we'll see if that continues."
Romo turned 36 last month, not long after surgery to repair the collarbone that kept him out of 12 games last season and sent the Cowboys sliding from first to worst in the NFC East.
The franchise's passing leader in yards and touchdowns says the collarbone recovery was a breeze compared to the regimen he had to follow when he was returning from back issues. And he sounds like someone ready for the season to start tomorrow, even though he's quick to remind how much work remains before then.
"Obviously I'm not in my mid-20s anymore, but I do think that based on what my situation has been like the last three or four years, I do think that this is drastically different," Romo said. "It started to show signs last offseason and this one is different. It takes me back five years ago when I was able to do things."
Romo might soon be joined at practice by receiver Dez Bryant, who missed seven games and was limited almost all season after breaking his right foot in the opener. But the Cowboys will be cautious with the 2014 All-Pro, who did some individual work Wednesday but mostly watched practice.
"I actually feel a little ahead of the game," said Bryant, who had surgery soon after the injury and again after sitting out the final two games with the Cowboys on their way to a 4-12 finish. "But I'm going to stay patient. We've got a long way to go. Ready to play some football."
The Cowboys went 1-11 last year without Romo, who was injured in Week 2 and missed seven games — all losses — before coming back for two. Dallas won his first game back, but was blown out by Carolina on Thanksgiving when he broke the collarbone again.
Brandon Weeden and Matt Cassel started the first 10 games without Romo, with Cassel getting the only win before he was benched. Kellen Moore, the only one of the three still with the Cowboys, lost the last two games in a season filled with Romo-less practices.
Now he's back.
"Him being out there is great not only for our team, but his leadership role he has for the younger quarterbacks, for any of the guys that have been around, to be an example of how we do things, especially our offensive system," offensive coordinator Scott Linehan said.
And Romo doesn't see any limits in what he can show them.
"It's been exciting to be able to do some of the things that I haven't been able to do," he said. "Signs of that show on the football field for myself. And they're subtle. It's tough to see from the naked eye. But I do think that my coaches and teammates around me see it."
Linehan is among them.
"Looks as healthy and young and vibrant as he has in a long time," Linehan said. "We really haven't brought up or talked about his surgery or any of the stuff he had. He's just really come back exactly like he said he was going to. Looks good to me."
There's that "young" thing again.
NOTES: Coach Jason Garrett said G Ron Leary has missed the offseason in a contract dispute. Leary recently signed a one-year, $2.6 million tender to try to facilitate a trade. ... LB Rolando McClain (family situation), DE Jack Crawford (visa issue) and TE Rico Gathers (academic work at Baylor) are absent this week. ... LB Sean Lee is sidelined after minor offseason knee surgery, and S Barry Church is staying away from team drills after breaking his right arm late last season.
___
AP NFL website: www.pro32.ap.org and www.twitter.com/AP_NFL