Rockets beat Mavericks 104-97 for 8th straight win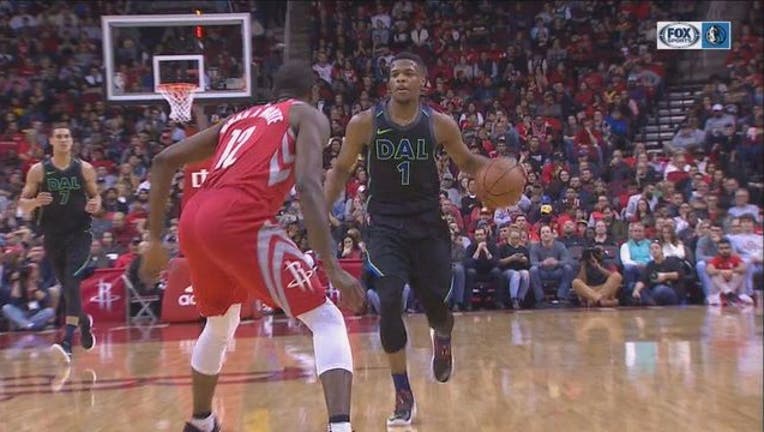 article
HOUSTON (AP) - James Harden scored 27 points, Chris Paul added 25 and the Houston Rockets easily handled the short-handed Dallas Mavericks to get a 104-97 win on Sunday night.
The Rockets have won eight straight and 12 of 13.
The Rockets led for most of the game, but the Mavericks kept it close until a couple of runs in the third quarter allowed Houston to pull away.
They were up by 12 to start the fourth quarter and led 93-77 after four straight points by Nene early in the quarter. Yogi Ferrell had the next seven points, highlighted by a 3-pointer he made before crashing to the ground as he was fouled, to cut the lead to 93-84 with about eight minutes remaining.
Houston scored the next five points, with a basket from Paul just before the shot clock expired followed by a 3 from Harden that spurred Dallas coach Rick Carlisle to call a timeout with about six minutes left.
But the Mavericks, who were playing their first game this season without Dirk Nowitzki, didn't threaten again and most of the Rockets' starters were soon on the bench with the game in hand.
Paul had nine assists and eight rebounds and Harden had five assists and six rebounds.
Ferrell scored 20 points for the Mavs, who have lost eight of 10. Dwight Powell had 18 points and 12 rebounds.
The Rockets were up by two early in the third quarter when they used an 8-2 run to make it 68-60 with about 8½ minutes left in the quarter.
Powell scored four points in a row later in the third to get Dallas within 5. Harden made two free throws after that before both teams went cold, with nobody scoring for the next 2½ minutes.
Maximilian Kleber ended the drought with an alley-oop to cut the lead to 76-71 with about three minutes left.
Houston got back on track after that, using an 8-2 spurt to make it 84-73 with less than a minute left in the quarter. Eric Gordon got things going in that stretch with a 3-pointer, and Paul scored the last five points.
Ferrell added a basket for Dallas after that, but Gordon capped the third quarter with another 3 to leave Houston up 87-75 entering the fourth.
Houston led 57-55 at halftime.
TIP-INS
Mavericks: Nowitzki stayed in Dallas because of a swollen left ankle. ... Wesley Matthews didn't make the trip because of tightness in his lower back.
Rockets: Trevor Ariza missed his seventh straight game with a strained left hamstring. ... Clint Capela added 16 points, 11 rebounds and three blocks.
UP NEXT
Mavericks: Host Sacramento on Tuesday.
Rockets: Visit Minnesota on Tuesday.
___
More NBA basketball: https://apnews.com/tag/NBAbasketball