Robinson's big 2nd half helps TCU hold off Baylor 82-72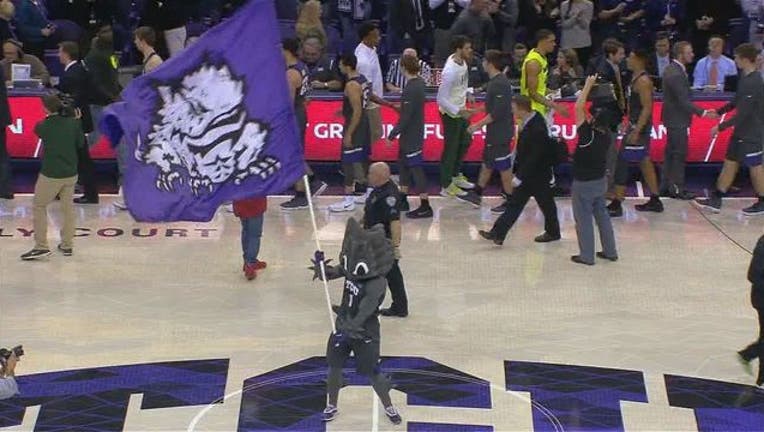 article
FORT WORTH, Texas (AP) - Baylor chose to make TCU's Alex Robinson beat the Bears on Saturday. Wrong choice.
Robinson, the Horned Frogs' point guard, scored 15 of his 22 points in the second half and TCU held off Baylor 82-72.
"(Robinson's) more of a facilitator, so our game plan was just to make him a scorer," Baylor forward Tristan Clark said. "Today, he did real well facilitating and scoring. So, we didn't do our job."
After the Bears pulled within three points at 68-65, Robinson banked in a shot and made two free throws in a 7-0 run as TCU (20-9, 8-8 Big 12 Conference) increased the lead to 10 with 1:07 left.
Robinson made all five of his field goal attempts in the second half. The Frogs made 70 percent (16 for 23) after halftime.
"It's just the way they were playing defense," Robinson said. "All year, we've been really deep, so defenses have to pick and choose. If I have an open look, I'm going to take it."
TCU coach Jamie Dixon approved.
"He was huge for us. He got in the lane a lot," Dixon said. "Some teams are playing more the pass on him. ... You've got to guard all five of our guys." "
Baylor coach Mark Drew said, "When he got an angle, he was good at getting to the finish line and finishing."
Desmond Bane had 16 points and eight rebounds for the Frogs. Vladimir Brodziansky added 14 points and Kouat Noi 11.
Jo Lual-Acuil Jr. led Baylor (17-12, 7-9) with 22 points. Clark had 14 and Mark Vital scored 12.
TCU held the Bears' scoring leader, Manu Lecomte, to five points, 11 below his season average, on 1-of-10 shooting. In the two games against the Frogs, Lecomte was 2 for 21.
"Let's credit TCU's length for bothering him," Drew said.
Brodziansky scored nine points in the first half, including five of six free throws. Kenrich Williams didn't score until the second half, but was a presence with seven rebounds, three assists and two blocks to go with four points.
TCU led by as many as 11 points in the first half and had a 33-28 halftime lead.
Two free throws by Lual-Acuil gave Baylor its first lead in 28 minutes at 57-56, but TCU answered with a 9-2 run and didn't trail again.
BIG PICTURE
Baylor: The Bears entered the game first among others receiving votes in the Top 25. The loss could mean that Baylor will need a strong performance in the Big 12 Tournament to receive an NCAA Tournament bid.
TCU: The Frogs won their third in a row, further enhancing their chance for their first NCAA Tournament bid in 20 years. TCU could move closer to a spot in the Top 25 after beating Baylor. The Frogs will finish the regular season at sixth-ranked Texas Tech.
SHOELESS ALEX
During the second half, Robinson lost his right shoe. He kept playing on defense, took off his sock and left it near the foul line. At the next whistle, the Baylor bench returned the shoe and Robinson left the court briefly.
"Everybody asked on the bench, 'Why did you take your sock off?' I needed some traction. If I get back up with Lecomte, I wouldn't be able to guard him."
LOOKING UP TO REBOUND
Both teams entered the game among the top 21 in the nation in rebound margin. TCU won this battle on the boards 34-29. The 6-foot-5 Bane had a game-high eight.
"Everybody on our team can do everything," Bane said. "The ball just happened to be bouncing my way today."
DUST OFF THOSE BROOMS
TCU had not swept a season series against Baylor since 1989, back in the old Southwest Conference. The Bears had swept TCU in its first five seasons since joining the Big 12.
DON'T ADJUST YOUR SET
Baylor wore fluorescent green uniforms. TCU was dressed in black, in support of a fan blackout promotion. Or perhaps to absorb some of the Bears' color.
UP NEXT
Baylor returns home to play fading Oklahoma on Tuesday. The Bears lost 98-96 at OU on Jan. 30.
TCU hosts Kansas State on Tuesday. The Frogs lost the Jan. 20 meeting 73-68.