Roach basket for Texas beats Oklahoma State 65-64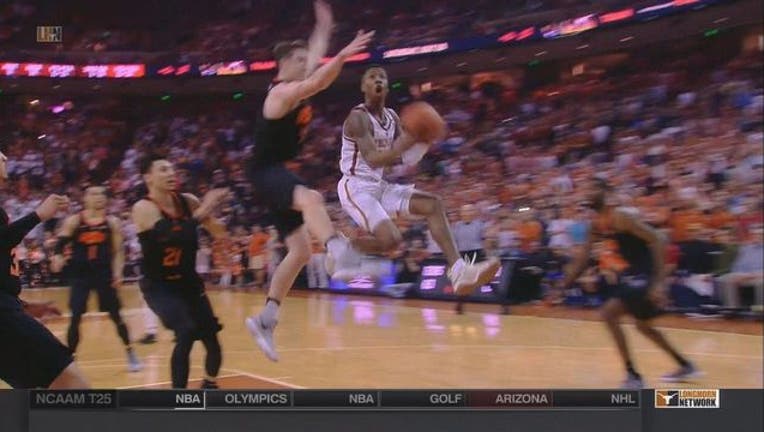 article
AUSTIN, Texas (AP) - Kerwin Roach II made a driving shot with 1.2 seconds left, giving Texas a 65-64 victory over Oklahoma State on Saturday and keeping the Longhorns' hopes for an NCAA Tournament invitation alive.
Kendall Smith scored seven of the last nine points for Oklahoma State, including a jump shot that gave the Cowboys a one-point lead with 22 seconds remaining.
Texas won despite playing the second half without center Mohamed Bamba, who has a left toe injury he suffered on Feb. 17 against Oklahoma.
Dylan Osetkowski led Texas (17-12, 7-9 Big 12) with 13 points and nine rebounds. Roach and Jacob Young scored 12 apiece.
Jeffrey Carroll led Oklahoma State (16-13, 6-10) with 19 points. Lindy Waters scored 14.
Oklahoma State made a 12-0 push starting with a 3-point basket by Carroll as the first half ended. The Cowboys expanded the run to 20-2 for a 10-point lead early in the second half.
But Texas later responded with eight straight points, six by Roach, to tie the game.
The Longhorns missed their first eight shots from the field but recovered to convert seven of their next nine and take a 33-28 halftime lead.
Jericho Sims, a 6-foot-9 freshman reserve who averages four points, filled in for Bamba much of the game and made three baskets inside for Texas in the first half. He finished with 11 points and seven rebounds.
BIG PICTURE
Oklahoma State: The Cowboys have lost three of their last four games and allowed their NCAA Tournament hopes to likely slip away with the loss. They have only two wins on the road this season, both against nationally ranked teams. Within the span of a week, the Cowboys beat Kansas and West Virginia, ranked No. 7 and 19 at the time.
Texas: The Longhorns are trying to avoid missing the NCAA Tournament for the second consecutive season, something they have not done since the 1970s and '80s, when they a missed nine in a row. The Longhorns, the most deficient shooting team in the Big 12, took a hit when junior guard Eric Davis Jr. was benched by Texas after he was implicated in a Yahoo! Sports report saying that he was among the college players who received money, in his case $1,500, from the ASM Sports agency. Davis averages 8.8 points a game, fourth-best on the team.
NEXT UP
Oklahoma State: At Iowa State on Tuesday. The Cowboys defeated the Cyclones 96-87 on Jan. 6 in Stillwater.
Texas: At Kansas on Monday. The Longhorns have lost eight straight to the Jayhawks, including 92-86 in Austin on Dec. 29.